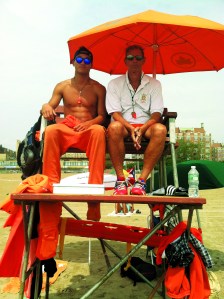 This past Sunday, a particularly sunny Labor Day's eve, Billy Weintraub stood on his patch of Brighton Beach and took stock of what he had: 18 surfboards, 30 beach umbrellas, 15 backboards, 30 first-aid kits, 150 pocket masks for CPR and 150 orange, plastic buoys. "We're doing end-of-the-year inventory," he said. "Just checking to see what we need for next year."
At 70, Mr. Weintraub is the most senior chief lifeguard in the Parks Department, which operates New York's nine beaches. And after 51 years on the job, he tends to be as reliable as the Wonder Wheel. On Sunday, he wore mirrored shades, orange department swim trunks and his American flag sneakers (laces untied).
He wandered over to Sergio Negron, 25, and Andrew Fu, 19, at their lifeguard stand and praised Mr. Fu for warning a swimmer of a nearby jetty with a whistle blow. "Preventative lifeguarding," Mr. Weintraub said. "It's like preventative medicine."
"He's old-school," Mr. Negron explained.
"I'm not sure what that means," the septuagenarian replied. "But I guess it's good."
Mr. Weintraub remembers the needle scare of the 1980s when nobody wanted to visit the beach and its inverse, the pre-air conditioning mob scene of 1963, when five people drowned.
He has attended hundreds of heart attacks and bouts of heat exhaustion. He has seen "at least six" body parts wash up on the beach. When a leg washed up with an argyle sock on it, Mr. Weintraub called the police, who told him matter-of-factly, "We'll just match this up with the other one."
He once searched freezing water for half an hour before realizing the swimmer he sought had already circled the jetty and was back on the beach; Mr. Weintraub then saved his leg-cramped self with a last ditch crawl up the jetty. Another time, he saved an old woman crying, "Save my teeth! Save my teeth!" as she held her dentures above the water. He saved the teeth, too.
Born in Bayside, Queens, Mr. Weintraub learned to swim at his family's summerhouse on Lake Waubeeka in Connecticut. He went on to compete on the swim teams at Bayside High School and Long Island University and then took up lifeguarding in 1962 at the suggestion of his college swim coach. After graduation, he became a public school P.E. teacher and kept at lifeguarding to supplement his income.
He met his wife, Susan, right on his stretch of beach in 1966. "What happened was there was thousands of girls on the beach," he said over pizza at L&B Spumoni Gardens in Gravesend. "I looked around, and I picked the prettiest girl."
Although he retired from P.E. 20 years ago, Mr. Weintraub's workout regimen remains extensive. He trains four-to-five days per week with the other lifeguards, bikes 10 miles every other day and, on nonbike days, swims a quarter-mile in the ocean. "I have somebody from here go with me on the surfboard to make sure I don't drown," he said.
When Mr. Weintraub tells stories about his corner of Brooklyn, his grave drawl has a tendency of giving way to a high-pitched enthusiasm.
"They're gonna put a new Cyclone in next year!" he said. "They've upgraded the lighting on the parachute jump! They put a new Nathan's on the boardwalk! A lot of changes and all for the good."
Before it was Russian, Brighton Beach was more middle-class, more Jewish, though Mr. Weintraub doesn't seem to have noticed that change and one gets the sense that he could weather even a Williamsburg-esque college-kid infestation.
While some of those types were on the beach Sunday, Mr. Weintraub was focused on the swimmers, his hand at the neckline of his white uniform polo. Absentmindedly, he pulled at the miniature lifeguard stand he wears on a chain. "I had this custom-made about 20 years ago," he said. "It's gold. Solid gold."