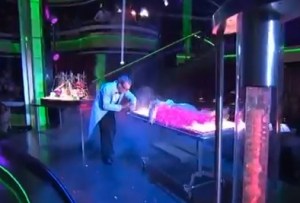 God, Bill Nye is perfect. Remember how he is the oppposite of Ben Stein who believes in Intelligent Design, even though when you were a kid you probably thought both of them were very smart? Yeah, that was fun.
Even more fun than watching Mr. Nye just kill it on the topic of why Creationism shouldn't be taught in school is watching him dominate the floor on ABC during last night's Dancing With the Stars, in which he did a fun cha-cha to our favorite song that Todd from Breaking Bad has a ringtone, "Weird Science."

[youtube=http://www.youtube.com/watch?v=AZtHZM8XYUQ&w=420&h=315]
We don't really watch Dancing With the Stars, so we don't know who these gross European monster judges are, or why they get to put their monster opinions out there. "Sorry professor, but that dance is not going to win you the Nobel Prize!" said the guy who sounded like Tommy Wiseau from The Room.
"Shut up!" We said, before dialing in and saving Mr. Nye from elimination. (He made it to next week's episode.)
We rarely endorse celebrity dance competition candidates, but we are 100 percent behind backing Mr. Nye this season, and we hope you'll join us in our new hashtags: #BillNyeForPresidentOfDWTS #MoreImportantThan2012Elections.