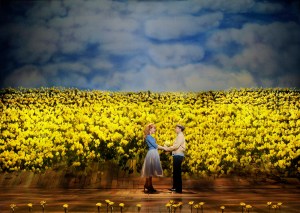 Romeo and Juliet
Richard Rodgers Theatre
Opens Sept. 19
The Internet Broadway Database lists 36 New York productions of Romeo and Juliet, dating back to 1754. Yet Shakespeare's tragedy of star-crossed young love and the perils of faking your own death hasn't appeared on Broadway in more than 25 years. Now it'll be the first opening of the fall season, in a hugely high-profile production starring heartthrob movie star Orlando Bloom, making his Broadway debut, opposite Condola Rashad, who earned well-deserved Tony nominations for her two previous Broadway appearances. David Leveaux directs, and there's the added bonus of Jayne Houdyshell as the nurse.
The Glass Menagerie
Booth Theatre
Opens Sept. 26
When she isn't occupied directing three of the last five Tony-winning best musical revivals, Diane Paulus runs the American Repertory Theater in Cambridge, Mass. The director John Tiffany and choreographer Steven Hoggett are the masterminds behind Black Watch and 2012's Tony-winning best musical, Once. Last winter, when Ms. Paulus brought Messrs. Tiffany and Hoggett to ART to mount a new production of Tennessee Williams's Glass Menagerie, Ben Brantley in The Times called it "such a thorough rejuvenation of Williams's 1944 drama that I hesitate to call it a revival." Starring Cherry Jones as Amanda Wingfield and Zachary Quinto as Tom, this Menagerie arrives in New York laden with as high hopes as a gentleman caller.
Big Fish
Neil Simon Theatre
Opens Oct. 6
Big Fish was, first, a 1998 novel about a son trying to make peace with his dying father, known for his flight-of-fancy tall tales. In 2003, it became a heartwarmingly offbeat Tim Burton movie. Now the screenwriter-turned-book writer John August has turned it into a Broadway musical, with a score by Andrew Lippa. Norbert Leo Butz stars as the father, Bobby Steggert is the son, Kate Baldwin is the mother, and Susan Stroman directs and choreographs. It's the only new musical opening on Broadway this fall.
Fun Home
Public Theater
Opens Oct. 22
Lisa Kron wrote two of the most compelling plays I've seen at the Public Theater: Well, about her mother and illness, and In the Wake, about the political and the personal in the George W. Bush era. Now she's back at the Public with the book and lyrics of a new musical, Fun Home, and Caroline, or Change composer Jeanine Tesori is her songwriting partner. Based on Alison Bechdel's graphic memoir of growing up in a funeral home, it's directed by Sam Gold and stars the powerhouse duo of Michael Cerveris and Judy Kuhn.
Snow Geese
Samuel J. Friedman Theatre
Opens Oct. 24
It sounds a little like Downton Abbey (but, you know, not soap operatically great-awful), transplanted to America and put on by an unmatchable team. A co-production of Manhattan Theatre Club and MCC Theater, Snow Geese is about an upstate New York family, gathered for a hunting party, confronted with pending deployment to World War I, the discovery that deceased, beloved dad left the family deeply in debt, and the realization that a way of life is ending. But here's what's so tempting: The play is by Sharr White, who wrote The Other Place, it's directed by Daniel Sullivan, and it stars not just Mary-Louise Parker but also Danny Burstein and Victoria Clark.
Betrayal
Ethel Barrymore Theater
Opens Oct. 27
There are several good reasons for this Harold Pinter revival to be the most anticipated show of the fall. It's a major work by a major playwright. It's directed by Mike Nichols, whose last Broadway effort was that definitive Death of a Salesman. And this play about adultery and dishonesty stars the married Daniel Craig and Rachel Weisz (in her Broadway debut). But, beyond all that, the characteristically canny marketing campaign producer Scott Rudin has been running all summer—those huge ads in The Times—has made the anticipation unavoidable. As usual, Mr. Rudin, well-played.
Domesticated
Mitzi E. Newhouse Theater
Opens Nov. 4
Bruce Norris's last play was the spectacular Clybourne Park, which won the Pulitzer Prize and the Tony Award for best play. Now he's coming to Lincoln Center Theater with a new play about "conflagration of gender, power, sexuality and politics that emerges in a private relationship after a public humiliation," which seems exactly right for our Spitzer-and-Weiner-redux moment. It is directed by Anna D. Shapiro, who showed with August: Osage County that she knows a thing or two about interpersonal conflagration, and stars Laurie Metcalf and Jeff Goldblum.
Twelfth Night and Richard III
Belasco Theatre
Opens Nov. 10
I'm not particularly a Shakespearean. But I am a Rylancian. And the amazing Mark Rylance leading an all-male cast in a repertory staging of two great plays is an occasion not to be missed. It's the first time that productions of Shakespeare's Globe are coming to Broadway, and the company is going full Elizabethan: not just men playing women, but candle-lit stages and period music on period instruments. Tim Carroll directs the plays, and Stephen Fry joins Mr. Rylance in the 19-man cast.
Regular Singing
Public Theater
Opens Nov.  22
We first met Richard Nelson's Apple family of Rhinebeck, N.Y., on election night 2010, in That Hopey Changey Thing, as this family of Democrats—three grown sisters, one's boyfriend, their brother and an aging, increasingly impaired uncle—considered the state of politics in the early Barack Obama years. Since then, we've spent two more evenings with them—the tenth anniversary of the Sept. 11 attacks in Sweet and Sad and the night of Obama's reelection in Sorry. I've found the plays to be overly self-impressed with their own politics, proud of themselves for raising points that aren't as original as Mr. Nelson, who also directs, thinks they are. But I've very much enjoyed getting to know the Apples, especially in Sorry, which focused more on family dynamics (around Uncle Benjamin's growing dementia) than on current events. I'm sad that two members of the impeccable cast won't be back for Regular Singing, set on the fiftieth anniversary of the Kennedy assassination, and I'm even sadder that this will be our last visit to Rhinebeck.
No Man's Land and Waiting for Godot
Cort Theatre
Opens Nov. 24
More Pinter, more repertory. Ian McKellen, Patrick Stewart, Billy Crudup and Shuler Hensley will star in Harold Pinter's No Man's Land and Samuel Beckett's Waiting for Godot. (It's why Mr. Hensley isn't back in the latest Apple play.) Amazing plays, amazing cast. The director is Sean Mathias.