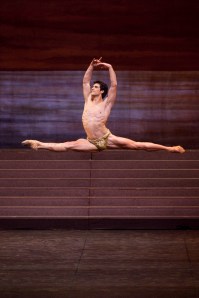 Did you know that this was the Year of Italian Culture in the United States? I didn't, until I read the program notes for Roberto Bolle and Friends Gala, an antipasto of dance snippets put together by the Italian star who reigns supreme over Italian ballet and became a principal at ABT in 2009. Bolle is very tall, very handsome, with super-elegant legs and a huge jump, and he's a good partner. It's just that his dancing isn't very interesting. He has been touring the past 10 years with many versions of this program, which, as he tells us, "is about brotherhood, about inviting the best in the world to create something spectacular." If only.
Things got going with a bang. Bolle, his chest bare (as it so often is) and wearing a kind of Ancient Greek Speedo, leaped onto the stage with those impossibly extended legs, together with Alina Somova, a young Kirov star, in a pas de deux from the famous Italian dance spectacle of 1881, Excelsior. It was exactly as flashy and meretricious as one has always assumed Excelsior to be. There were 11 numbers in all, best in show the two featuring everyone's favorite ABT dancer, Herman Cornejo. With Luciana Paris, he gave us Twyla Tharp's Sinatra Suite, and, though some of us have seen them do it many times, it was like water falling on scorched earth. And then in the second half of the program, Cornejo took on Balanchine's wonderful Tchaikovsky Pas de Deux—the best performance of it I've seen in years. His partner was the very capable Maria Kochetkova, from the San Francisco Ballet, who came close to sabotaging herself with her relentless determination to make eye contact with the audience—just as irritating a form of flirtation as the more usual crime of relentless smiling. With the Tharp and the Balanchine, we had two sips of first-rate choreography. And then we had the rest.
Somova reappeared as the Dying Swan—the healthiest, most robust bird you've ever seen. She had the steps, such as they are, but not the slightest understanding of what this famous solo is about. It's about dying, Alina. Bolle reappeared in a well-known spoof of classical ballet called Le Grand Pas de Deux by someone named Christian Spuck. The ballerina carries a red handbag (sometimes in her teeth) and grows dizzy from her fouettées. All too many of the jokes are pale versions of the fun in Jerome Robbins' The Concert and the parodies by the Trocks. Sorry, Roberto, but looking up the tutus of the girls when they bend over and expose their undies just isn't very funny.
There were pas de deux by Uwe Scholtz and Mauro Bigonzetti in the same earnest Euro-style and with the same pair of dancers. It came as no surprise that the Bigonzetti was the better of the two since he's the better choreographer. Bolle's shirt was off again in the anguished pas de deux from Roland Petit's L'Arlesienne, but acting isn't his strong point. A really lovely young Italian girl, Erika Gaudenzi, was his partner. There was a bland balcony scene from Cranko's Romeo and Juliet and something ferociously jagged and trendy called Mono Lisa—yes, Mono. And finally a solo for Bolle called Prototype, with "concept and choreography" by Massimiliano Volpini, co-direction by Avantgarde Numerique and Xchanges Vfx Design, plus visual effects by Xchanges Vfx. You've got it—technology triumphant, with flashing images of Bolle projected behind Bolle himself. First there was one of him, then two, then three, then seven, then a horde—a thrilling climax for much of the audience, a lot of it swanky Italian-American, who cheered throughout when not chatting and texting.
A couple of nights later, up at the Koch, we had a different kind of gala—this one celebrating the new City Ballet season with three brand new ballets. The big effort was Spectral Evidence, by the leading French choreographer Angelin Preljocaj. I've been impressed by some of his work, but this was more depressive than impressive—to be expected, since its subject is the Salem witch trials. It's not a literal retelling, thank goodness, but a reimagining: four men, four women, the men in sinister clerical black, the women in white dresses with silicone blood on them. There's a clever construction of white slabs that comes apart, reforms, tilts, and turns into gravestones. The action involves the minister types chastising (while lusting after) the girls—there's grabbing, struggling and surrendering, as the slabs rearrange themselves. Tiler Peck and Robert Fairchild perform the central pas de deux, and they're superb. But then they always are. The whole cast is upper-echelon, though it hardly matters—there's nothing particular in the movement to reveal a dancer's qualities. The score is John Cage vocal music, punctuated by gasps and groans. Why waste perfectly good principals on something like this? Well, why not, since the company now has 27 of them! They might as well earn their keep.
Neverwhere, by Benjamin Millepied, is set to his favorite composer, Nico Muhly. Millepied is at his not-very-good best with small groups, and this piece uses only six dancers, three guys and three gals. Again, there's a couple with an effective central pas de deux: Sterling Hyltin and Tyler Angle. Everyone's in scaly, glittering black, including, for the women, boots (with pointes) practically up to the knee. The movement is smooth, the effects are small-scale, and the whole thing swiftly comes and goes. It's Millepied modest, which is certainly preferable to Millepied ambitious.
Justin Peck, the young choreographer of choice these days—and properly so—came up with another brisk, bright, satisfying piece, his fourth for the company (in which he also performs as a soloist). One of his great strengths is a total understanding of what City Ballet dancers know how to do best: He appreciates and perfectly deploys their speed, attack, technical panache and humor. Here he employs five of them, on a more or less equal-opportunity basis, who share the stage with a cellist and pianist performing very appealing music by Lukas Foss. The three girls are in attractive short dresses—red, white and black. The two men handle the girls easily, happily—most happily, maybe, when they good-naturedly slide them under the piano. The ballet is called Capricious Maneuvers, but it's far from capricious: One of Peck's other strengths is confident structuring. This new piece doesn't extend his range, but it confirms his mastery of it. Where will he go next?
The theme of the gala was a salute to costume. Each premiere was introduced by a short film showing its designer at work, all three of them from the world of fashion—a horrible echo of last year's Valentino debacle. But Prabal Gurung (Peck), Iris Van Herpen (Millepied) and Olivier Theyskens (Preljocaj) show more respect and understanding of what dancing requires than Valentino did. I do think, however, that I heard one of them stating on film that costumes are as important to ballet as music and choreography. Does Peter Martins really believe this?
The evening opened and closed with appropriate gala cheer. To start off, a buoyant percussive "Fanfare for Orchestra" by John Adams; to end up, the final go-for-broke movement of Balanchine's Western Symphony. Let's face it, no choreographer looks good compared to Balanchine, and no designer compares to his favorite, the incomparable Karinska. Comparisons, our mothers told us, are odious, but how to avoid them?
And then, down at the Joyce, there was The Metamorphosis, the much-heralded dance-drama (or something) from England's Royal Ballet, starring principal dancer Edward Watson. Yes, Gregor Samsa wakes up one morning turned into a giant bug, but not until we've seen him going again and again through the dreary motions of his salesman's job. Is it the deadening routine of bourgeois life that brings on the transformation? Not in Kafka's great novella, in which the metamorphosis just … happens, in the first line.
This entire elaborate piece, created by Arthur Pita, is a pretext for Watson's tour-de-force performance. He thrashes, he spasms, he crawls and climbs and clambers. He slides and slips through the brown ooze he's been secreting. At times, he seems more simian than insectoid, but who's counting? Watson is terrific, but enough is enough. His family feels the same way, as their initial repulsion/sympathy morphs into irritation. At first, the young sister—in Kafka, an aspiring violinist; here, an aspiring ballet dancer—tries to protect Gregor, but she gets fed up. The sensitive, conflicted mother is helpless. The angry father is alternately belligerent and pathetic. Three men in beards and black hats stomp around. (In the story, they're lodgers; here, they're apparently refugees from Fiddler on the Roof.)
We also have a brusque, no-nonsense maid who deals with the bug with neither repulsion nor sympathy. Her job is to clean, and she sweeps, scrubs and mops, shooing Gregor aside whenever he gets in her way. In Kafka's tragic denouement, he wastes away in shame and guilt—and his family's negligence. In the Pita version, the maid solves everybody's problem by deliberately leaving open the high casement window, and we last see the wretchedly obliging Gregor preparing to defenestrate himself—he knows he's not wanted. Poor bug!
But what a maid! You just can't find help like that these days.