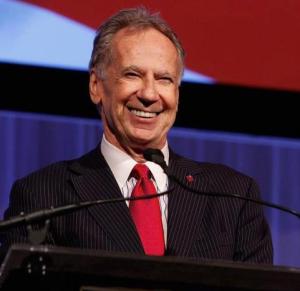 Republican mayoral candidate George McDonald says one of his rivals never should have been allowed to participate in last week's official debate–and is trying to bar him from the next one.
In a complaint filed yesterday with the city's Campaign Finance Board, Mr. McDonald charges that the board violated its own rules when it allowed billionaire candidate John Catsimatidis to participate in last Wednesday's televised debate because he failed to raise the qualifying cash.
"It was clear from Mr. Catsimatidis' CFB filings that he did not meet the qualification criteria to participate in the debate," wrote the campaign in a letter shared with Politicker. Mr. McDonald has not been invited to this Sunday's final Republican debate, which is reserved for "leading contenders"–and is livid.
"There can't be one set of rules for a billionaire and a different set of rules for everyone else. Given the circumstances, we believe the CFB, Lhota and Catsimatidis campaigns should agree that McDonald participates in the final debate," fumed Mr. McDonald's spokesman, David Catalfamo.
According to the official debate rules provided by the CFB, in order to qualify for the first debate, candidates had to have reached at least 2 percent in public polls and must have "raised and spent" at least $50,000 by the end of the disclosure period before debate, which, in this case, was August 5. A July 29 letter from the board's Executive Director Amy Loprest to Mr. McDonald reads: "Any reference in the Debate Program criteria to contributions 'raised and spent'… does not include loans made to a campaign by a candidate or any other entity."
But records show that Mr. Catsimatidis, who is financing his own campaign, fell below the fund-raising threshold, even though he'd loaned his campaign several million dollars.
To qualify for Sunday's debate, candidates must have raised $1,285,200 and spent $250,000 by August 26th, and must have polled at least 7 percent. According to records, Mr. Catsimatidis has raised $29,616 in contributions and loaned himself $4 million cash.
Mr. McDonald, meanwhile, has received $182,709 in contributions and loaned himself $260,000. He is $200,000 in the hole.
But a CFB spokesman defended the board's decision to include Mr. Catsimatidis and not Mr. McDonald. "After our initial communication with the campaigns, the Board reviewed the criteria and the facts and determined that Catsimatidis was eligible to be invited," he said via email, declining to comment on Mr. McDonald's specific objections.
A rep for Mr. Catsimatidis, who is not required to participate in the debates because he is not accepting matching money, also dismissed the issue.
"The CFB invited us to participate, I would suggest Mr. McDonald discuss the matter with them," his spokesman Rob Ryan said.