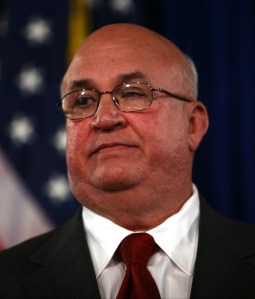 TRENTON – Gov. Chris Christie today formally filed his nomination of Superior Court Assignment Judge Faustino J. Fernandez-Vina to a seat on the state Supreme Court.
Fernandez-Vina is the Superior Court Assignment Judge in Camden County.
Christie announced his intention to nominate Fernandez-Vina on Aug. 12 when he also said he would not renominate Justice Helen Hoens.
Christie's two earlier nominees – Phil Kwon and Bruce Harris – who received hearings before the Senate Judiciary Committee were rejected by the Democratic-controlled panel.
His next two nominees – David Bauman and Robert Hanna – have not received a hearing.
Also today, Christie filed the formal nomination of Gurbir Grewal to be the next Bergen County Prosecutor.
Since 2010, Grewal has worked at the U.S. Attorney's Office in Newark as the Deputy Chief of the Economic Crimes Unit and Computer Hacking and IP Crimes Unit, and previously worked at the U.S. Attorney's Office in the Eastern District of New York as an Assistant U.S. Attorney at the Business and Securities Fraud Unit.
The nomination comes after the state's high court last week issued a 3-2 ruling in favor of affordable housing obligations that is at odds with the administration.
Christie's attempts to reshape the high court have met strong opposition from Senate Democrats.
Previous stories: