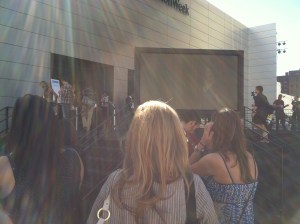 The fashion gods did not look kindly on us this afternoon at Lincoln Center as we waited to get in to Rebecca Minkoff's runway show, which featured the designer's spring/summer 2014 collection along with a live performance by the soul singer Janelle Monáe.
It was one of the most highly anticipated shows of Fashion Week, and there we were, not seeing it.
"Is this the line?" someone behind us asked.
The short answer was yes. It was the standing-room-only line, and granted, we were standing in a room, but not the room we all wanted to be in.
After about 40 minutes, the line inched forward. We were about half-way out of the hallway to which we'd been shunted when the security guard came out and told us the bad news. We would, he said, not be getting in to the Rebecca Minkoff show—which, in retrospect, was probably already over when he said this. It seemed that too many tickets had been sold.
"Please don't hate me," he told us, half-jokingly. "It's not my fault."
Nary a word was spoken. It was all too much to bear. Hangdog expressions abounded.  A slew of stylish, disappointed women—and maybe a few men—walked solemnly away with their heads down.
We walked away, too, found a screen outside of the building and caught a snippet of the recorded version of the show, which was inspired by influential Latin American women like Bianca Jagger, Frida Kahlo, Caroline Issa and Alice Dellal.
Soon after this, we ran into a couple of acquaintances—women whose opinions about fashion we trust.
It was, they told us, one of the best shows they'd ever seen.