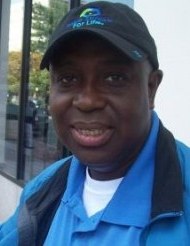 A staunch 2009 backer of Gov. Chris Christie from Newark has switched his allegiance to state Sen. Barbara Buono (D-18) after becoming disillusioned with the GOP incumbent and his priorities.
"Barbara represents all of New Jersey, not just a chosen few," said Herbert Glenn, a former Republican who ran for an LD 28 Assembly seat the same year Christie won.
"She is gutsy and genuine with her intentions," Glenn added. "She needs to be protected. She deserves the support from someone who believes in better government. She will make a great governor."
A data entry clerk in the county records department, Glenn was also a 2010 Republican challenger to Essex County Executive Joe DiVincenzo, a close, cross-the-aisle ally of Christie's.
He switched his party affiliation after that loss, disappointed by what he said was the failure of Republican leadership to support his candidacy against DiVincenzo.
In 2009, Glenn was an animated presence on scene when Christie opened his Newark campaign headquarters during his general election challenge of then-Gov. Jon Corzine. But "Christie has fallen short from being a representative for concerns that are important for the community in which I live," he told PolitickerNJ.com.
"My change of party affiliation was necessary to eliminate confusion as to what my priorities are," he added. "I represent a minority constituency and the Christie administration did not embrace me because of that commitment. …I still represent the same issues. Double dippers were addressed and the law has since changed. Other areas, such as the endorsement from a Democratic official to support a Republican friend, are suspect, but not unusual. Switching party affiliation is not as serious as supporting a governor that has shut down on urban priorities in favor of back room deals and balancing his budget by reducing social services."