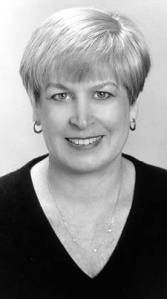 When Susan Schulman was growing up, she hung around outside stage doors. "I was a theater kid," she said recently in her office in Midtown. "I always wanted to be in the theater, but I had no way in." Eventually, she found one: For 40 years, Ms. Schulman has been one of the most respected publicists in the theater business. She has plenty of stories to tell ("behind-the-curtain stuff," as she puts it), and finally she has told many of them, in Backstage Pass to Broadway: True Tales of a Theatre Press Agent, published by Heliotrope Books.
Ms. Schulman's stories are arranged like life—helter-skelter—scattered within the perimeters of two seminal events in her professional life: from how she, a rookie of 23, reduced the famously ferocious Lauren Bacall to a contented purr, to the time she beat the mighty David Merrick at his own penny-pinching game. ("I don't know if I got the best of him, but I got money out of him, and that's unique.")
A poster for Applause occupies pride of place in Ms. Schulman's three-room office at 1501 Broadway. "To Susan," reads a note on it, "with thanks for all your patience and fortitude in the face of disaster. Love, B.B." (aka Betty Bacall).
A lot was riding on Applause for La Bacall, who then was making a rocky debut as a musical-comedy actress, so she chose the top publicist in town, Bill Doll. He came with an office of eight, who were all over the show like ants. The most junior staff member was Ms. Schulman.
"Betty would ask people in the office if something was done, and, because she could be very sarcastic, they would say yes," she recalled. "It was just easier. Then, she'd find out it wasn't done, and she'd tear into them. I, in the innocence of youth, would tell her, 'I dunno, but I'll find out, and, if it isn't done, I'll fix it.' To my utter amazement, all of a sudden, I was called into Bill's office and told, 'The producers, Larry Kasha and Joe Kipness, have just informed us that the only person Betty Bacall will deal with in the Bill Doll office is Susan Schulman.' Looking back, if I were them, I wouldn't have let it happen. But it did happen, and I found myself handling the biggest hit show of the season."
Naiveté wasn't the best card to have to handle Zero Mostel. She remembered once posing with him in a photo shoot when his right hand turned playfully into "the beast with five fingers." It startled her. Now she laments, "I wish I'd have had a more sophisticated response. He was just having a good time. To him, it was nothing."
Mr. Mostel was then charging back to Broadway in The Merchant as Arnold Wesker's reimagining of Shakespeare's Shylock. In preparation for the show, he dropped 89 pounds, but that got him no farther than the first, excruciatingly long preview performance at Philadelphia's Forrest Theater (it tipped the scales at four hours).
"The next day, just before the Saturday matinee, Z got sick," she said. "The matinee was canceled, and he was taken to the hospital, and he never came out. He was a star, and he knew it. He knew he was calling the shots. It was his way or no way."
The fan inside Ms. Schulman has stayed alive after nearly a half-century of doing publicity for Doll, Mary Bryant, Frank Dunlop, Frank Goodwin, Arthur Cantor, Merle Debuskey and, finally, herself. Her office is wall-to-wall proof of her affection for the business.
"Oh, that was the 25th anniversary of the Tony Awards in 1971 when they all came back and recreated their Tony-winning roles," she captioned when quizzed about the picture of her and the King of Siam. "It was everybody you'd ever idolized growing up, all on one stage—Julie Andrews, Robert Preston, Gwen Verdon, Richard Kiley—you thought your head was going to explode! Alex Cohen, the producer of the show, assigned me to look after Yul Brynner, which was very easy, no star turns, very relaxed. He and Patricia Morison capped the evening with the showstopper to end all showstoppers, doing 'Shall We Dance?' When his hand went around her waist and he said, 'It was like this,' the whole world stopped. I still remember that afternoon at the dress rehearsal; all those famous faces were streaked with tears."
The photo, she pointed out, is the cropped version. "What I don't have is the uncropped version where you can see many of those stars glancing in our direction, clearly thinking, 'Who the hell is that with Yul Brynner?'"
Next to the king on Ms. Schulman's wall of fame is a bona fide president. "The Joffrey Ballet called me and said they were doing a huge benefit at the Metropolitan Opera House that would be chaired by Mrs. Ronald Reagan—because, of course, Ronald Reagan Jr., whom we proceeded to call Little Ronnie Reagan, was in the Joffrey's junior company. All that meant that the president and first lady would be attending this gala at the Met, and the Joffrey wanted me to be the point person for them with the White House. The next thing I know I'm being vetted by the Secret Service."