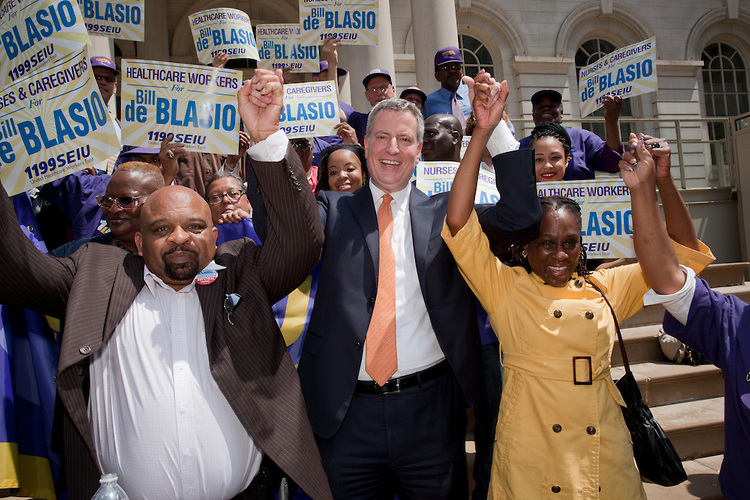 Endorsing Bill de Blasio was a move fraught with risk in May.
City Council Speaker Christine Quinn was the vaunted front-runner in the mayor's race, according to the polls. It was widely assumed that former Comptroller Bill Thompson, the only black candidate in the race, would consolidate the minority vote.
But the influential healthcare workers' union went with Mr. de Blasio, the city's public advocate, who now stands as the all-but-assured Democratic nominee for mayor. Mr. de Blasio repaid their faith by making potential hospital closures a centerpiece of his campaign: in July, he was even arrested for protesting the closures of two Brooklyn hospitals, a move that gave him needed publicity.
Yet even as far back as June, it looked like George Gresham, president of 1199 SEIU United Healthcare Workers Union, had seriously miscalculated.
Mr. Gresham, 58, had hoped when he backed Mr. de Blasio early, other labor unions would follow his lead. Instead his colleagues made clear that they didn't view Mr. de Blasio, who was once expected to rack up the lion's share of labor endorsements and the support of the labor-backed Working Families Party, as viable in the primary.
In one grim period for Mr. de Blasio, the city's other three most politically powerful unions–the United Federation of Teachers, 32BJ SEIU and the Hotel Trades Council–all endorsed Ms. Quinn or Mr. Thompson, dealing what appeared to be a crippling blow to the de Blasio campaign.
"I certainly was aware he didn't start off with the type of name recognition the other candidates had," Mr. Gresham told Politicker in a recent interview. "We started out behind the eight ball but the question became for me: 'If we're going to get involved, we'e going to invest our organization to really fight hard to get someone to be the next leader.'"
"The direction the city was going in was not a direction for working people," he further explained. "If you're born wealthy, then this is a fun place to live. But if you have to work for a living, it's very challenging and it's quite unfair at times. I'm excited that that perspective is going to change and make it a city for everyone."
***
Mr. Gresham speaks in a calm, grandfatherly pitch, belying the power he wields as president of a massive union, which represents 300,000 healthcare workers and retirees. Born to domestic workers in Virginia, Mr. Gresham attended segregated schools as a child before arriving in New York City. His climb to the top of 1199 was not quite as meteoric as Mr. de Blasio's mayoral ascension: his first hospital job was mopping floors at New York-Presbyterian.
But he slowly rose through the ranks, attending college to become a radiology technologist. After 13 years of union membership, Mr. Gresham became a full-time union organizer in 1988. He was elected in a 2007 uncontested race to replace long-time head Dennis Rivera, who was known as a more outwardly aggressive leader–once running advertisements against then-Republican Gov. George Pataki to drive down his popularity in the wake of proposed healthcare cuts.
Mr. Gresham has his own, more understated swagger, arguing that had he decided to back one of Mr. de Blasio's rivals, that win would have also been decisive. "I do believe if we had taken any of the candidates that were perceived as the leader and gotten in the race, we would have assured the person of the mayoralty–I do believe that," he said.
Nevertheless, it is unclear how critical 1199's role was in pushing Mr. de Blasio far past his rivals. The union's relatively modest independent expenditure on behalf of Mr. de Blasio–less than $200,000–dwarfed in comparison to the UFT's nearly $3 million for Mr. Thompson. But 1199 also focused on turning out its own members, spending roughly $2 million in mailers to get them to the polls.
And of course there were many other factors, including Mr. de Blasio's clear anti-Bloomberg message that resonated with liberal primary voters, the utter collapse of Mr. Weiner's campaign and a famous commercial featuring his mixed-race son talking candidly about stop-and-frisk.
Still, as some labor leaders wonder what went wrong with their picks, Mr. Gresham can celebrate what went right. He may end up having a strong ally in Gracie Mansion, though it's still not clear how much a mayor can do to prevent state-run hospitals from shuttering in the long run.
"I knew, win or lose or not, we would not regret the decision we made because we did what our members asked us to do," he said.
And it seems Mr. de Blasio is willing to give him credit.
Unrecognizable to many of the hundreds jammed into the Brooklyn concert space where Mr. de Blasio gave his victory speech last Tuesday night, Mr. Gresham was the one, along with actress Cynthia Nixon, to introduce the victor.
"As excited as I am, we still have work to do, we're not there yet," Mr. Gresham told the crowd, sounding slightly less euphoric than other de Blasio supporters that night. "We have to continue to be vigilant and strong and make sure that we complete the job that we started."