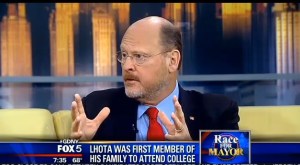 Former Deputy Mayor Joe Lhota is getting a boost from his old boss right before Election Day next Tuesday.
"You'll see him this weekend," the GOP mayoral candidate said when asked about former Mayor Rudy Giuliani in an interview on Fox 5's Good Day New York this morning. "Bring your cameras out. You'll be able to see him."
While Mr. Giuliani has already appeared in multiple Lhota ads and attended a smattering of events, Mr. Giuliani's spokeswoman had previously told the Associated Press that Mr. Giuliani would be out of the country "this week and next," meaning Mr. Giuliani "will not be around for most of the final days before the Sept. 10 primary," according to the report.
On Good Day New York, Mr. Lhota also revealed that he's rather keen on getting the endorsement of another mayor: Michael Bloomberg.
"Mike Bloomberg and I had a discussion back in January. He's staying out of the primary right now. I will talk to him … next Tuesday night, Wednesday morning about the future and where we're going," said Mr. Lhota, who is ideologically closer to Mr. Bloomberg than the Democratic front-runner, Bill de Blasio.
The New York Times reported today that not a single candidate had sought Mr. Bloomberg's endorsement in the primary. They cited one GOP candidate's internal poll that found two-thirds of party members had a negative view of the current mayor.
Mr. Lhota is leading in the polls, but his billionaire rival John Catsimatidis has been flooding the airwaves with increasingly negative ads, leading to some uncertainty in the primary race's ultimate outcome.
See the full interview here.