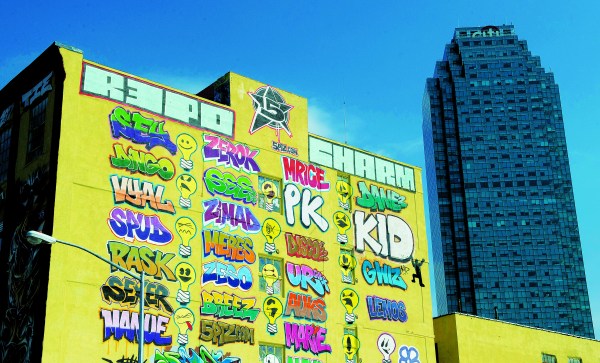 People don't always think of Long Island City when they think of up-and-coming areas around Manhattan. LIC seems, at the very least, remote. Some might even call it barren. The neighborhood has been often overlooked in favor of its northern neighbor, Astoria, and southern communities in Brooklyn like Williamsburg and DUMBO.
But with amazing views of the Manhattan skyline and a developing artistic community (and corresponding bar scene), LIC's time is coming.
At least, the president of Rockrose Development Corp., which owns a parcel of land in the area, thinks so. NYO sat down with Justin Elghanayan to discuss his aspirations and plans. Hailing from the family that founded Rockrose, Justin is currently the leader of Rockrose's massive residential project in Court Square in Long Island City.
"I would divide Long Island City into two areas. There's the waterfront and the inland area, Court Square. Zoning has been a part of the development. Once zoning changed along the waterfront, those properties developed very quickly. In Court Square, I think it is now developing very quickly and I think that is because a major residential player is making a large investment.
"Court Square was initially envisioned as a commercial hub—Citibank went there and developers didn't really build more massive commercial buildings. We, Rockrose, imagined it as a residential area and we bought massive parcels of land."
What's in Rockrose's vision? What draws you to the neighborhood? 
Two of the biggest things are LIC's arts community and the area's unparalleled transportation. If you look at neighborhoods that tend to become popular, they often have those two components.  LIC is rich in cultural institutions, like MOMA PS1, and the fabric of the daily life is made up of a lot of working artists who have studios in the area. On the transportation side, the waterfront is one stop from Grand Central on the 7 train, and Court Square, where we are building a 2,500-unit multi-phase project, has access to the E, M, 7, G, N, and R trains.
Tell me more about Court Square. 
The first building is Linc LIC and we are leasing now. Linc LIC has a double-height fitness center, basketball court, squash court, kids' playroom, Wifi lounge, two roof decks, valet, and tenant lounge that looks out over an amazing vista of Manhattan. A building like this really appeals across the spectrum of demographics, but we do know that generally newer locations will draw a younger crowd.
What is coming after Linc LIC?
Linc LIC has 709 apartments and will be followed by 43-25 Hunter Street, currently in pre-construction, and will have 975 units, 80/20. That's expected to open in 2016.
Then there is Eagle Loft, 700 units of residential rental. There's no delivery date at this point. We also have a triangular block across from Linc LIC. The existing garage is leased to M. Wells Steakhouse, set to open soon, and the vacant land will eventually develop 100 units of either condo or rental.
In what ways do you see Rockrose reinventing Long Island City? 
I'm willing to speculate that in five to seven years we will look back and say that Court Square may have been the fastest of any outer-borough neighborhood to fully develop in NYC. I know that is an ambitious projection. But there are a lot of factors at play. Consider the already sizeable office population in the area from the Citibank Building, JetBlue, etc. This means that more retailers can thrive more quickly than might otherwise be the case, because they can draw on both the office population and the growing residential population And the zoning is already there, so developers can plug and play for the most part.  Put all this together and you have a very dynamic and fertile development environment.
Where do you see Long Island City in 10 years?
I think what you're going to see over time—faster than 10 years— is that the transportation hub effect will lead more and more "destination" retailers to take root in Court Square. The importance of the transportation hub will ultimately be that it allows you to get to the neighborhood easily, rather than that it will easily transport you from LIC to work or to other neighborhoods. There's already a steady flow of tourism in the neighborhood, and I think that's a trend that will increase. Along with the office population, the working artist population, the cultural institutions, visitors from other boroughs and the 15,000 people who will be living in a few-block radius, it all adds up to a pretty interesting place.
You've mentioned the massive Court Square project earlier, but  what's next for Rockrose Development? Do you want to further expand in LIC?
I've made a rule that we cannot buy any more in LIC, so as not to be too over-concentrated, but I actually made that rule before we bought the Eagle Warehouse, so I seem not to be very good at sticking to my resolve with respect to this issue. The problem is that I have sense of where I think the neighborhood is going, and that just makes me want to keep buying.
Now to the most important thing. Where's the best place to grab a cocktail in the neighborhood? 
That's Dutch Kills. I remember a few years ago a bunch of friends and I went out on a Saturday night to go there. We got off the subway and it was like, 'Where are we?' And I realized that suddenly we were having an adventure—that the very sense of dislocation, that led me to wonder where I was, would someday make for an exciting place to live.