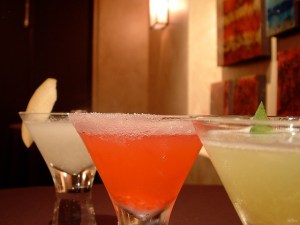 At least locals upset about all the hipster trustfunders taking over Williamsburg may get some new places to drown their sorrows. More than 100 businesses applied for liquor licenses at this month's Brooklyn Community Board 1 meeting and 37 of them are brand new locales.
Among the applicants was local rum distiller The Noble Experiment NYC, hoping to add a bar called The Speak to their small batch facility in East Williamsburg. Until then, drinkers can check out their weekly tours and tastings for just $10.
Our Wicked Lady, from the Brooklyn Bowl founders, also applied for a new space that promises to include room for concerts, art studios, and of course, a bar. Dotory, a new Korean restaurant, and Charlotte Patisserie, home of adorable treats, is also trying for a license.
Even Urban Outfitters has applied for a license in the hopes that they'll be able to sell liquor at their store opening on North Sixth Street, reports DNAinfo. So perhaps you'll be able to sip a G&T as you try on ridiculous tribal print rompers (we expect this may also lead to a huge uptick in the sale of tribal print rompers).
Check out the full list of applicants here (pdf).