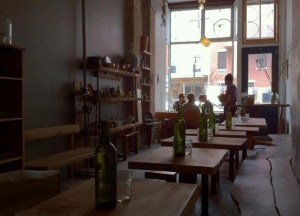 Silence is golden – at least that's what one Brooklyn eatery is banking on.
Eat, a restaurant in Greenpoint, is planning on running a monthly event where all diners must chow down in complete silence.
Nick Nauman, Eat's managing chef and events curator, came up with the idea in a bid to address the  "alienation" caused by the countless distractions people encounter while eating.
Mr. Nauman told The Observer last Sunday's 90-minute pilot run was "strange in a very good way."
"The energy of the presence of the people involved was really palpable and motivating to make the food really good. I didn't know if afterwards people would say 'Woah, dude – that was weird' or be displeased and not want to pay."
Luckily, that wasn't the case: "The response was really positive … I found it really gratifying."
Threatened with the punishment of having to finish their meal at an outdoor bench if they spoke, the crowd remained silent. "I didn't expect anybody to screw it up," Mr. Nauman said.
The 28-year-old wants to "reconfigure the relationship between a space and food" and "transform Eat into more than a restaurant" through a series of upcoming lectures and artistic performances.
He is also open to suggestions about more novel events the public would like the restaurant, which is located on 124 Meserole Avenue, to curate.
The all-organic eatery is not planning any extra loud events to counter-balance their silent meals. ("People can go anywhere else for that.") Nor are they organizing anything illegal.
If you're curious, stop by Eat on Sunday, October 6th, when the second silent meal will take place. Get there early, the capacity is just 25 people.