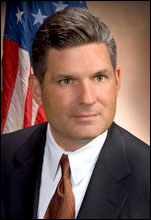 TRENTON – Assembly Majority Leader Lou Greenwald issued a statement Wednesday indicating he won't seek the position of speaker of the Assembly.
"My top priority as Majority Leader and as a leader in the New Jersey Democratic party is maintaining and strengthening our Democratic majority in the Assembly," Greenwald said in a statement.
"To that end, I have worked tirelessly to return 48 Democratic members to the Assembly and to expand our majority in key battleground districts," he said. "If Democrats retain control of the Assembly, as I strongly believe we will, my plan is to ask for the caucus's support for another term as Assembly Majority Leader."
Greenwald was apparently responding to recent published reports that said he was reaching out to lawmakers for support for a potential bid for speaker.