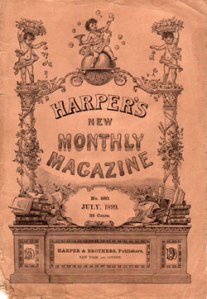 Harper's Magazine will never give in to the free-content Internet craze.
The October issue opens with a three page letter (Harper's is not known for brevity) from president and publisher John R. MacArthur reaffirming the venerable magazine's stance against the new-in-1999 model of online journalism.
Even when the magazine became available digitally in 2003, it was adamant that it wouldn't just give it away.
"We know what happens to lemmings–thanks to YouTube you can watch it in graphic detail any time of the day or night–so I decided early on that I wouldn't join in the frenzy of free content," Mr. MacArthur wrote, explaining that the paywall remained firm even when the magazine became fully accessible online.
But it isn't just free content that the Harper's publisher has a problem with, it's the word content itself.
I was immediately suspicious of the Internet being touted, in the late 1990s, as a miraculously efficient publishing platform because of the Web's capacity for copyright violation. But what disturbed me more as a publisher and a writer was the ugly commodification of writing itself–the renaming of prose and poetry as something called 'content.' Suddenly my colleagues were reducing well-wrought sentences and stories to the level of screws and bolts. Not only was 'content' an ugly and offensive word, but my fellow publishers also proposed to give it away for free in the quest for more advertising.
And, according to Mr. MacArthur, the Internet is to blame for the current perilous state of the media industry.
"The result, as anyone with even a passing interest can observe, has been catastrophic: massive layoffs of editorial employees; the collapse of major publications; the impoverishment of writers; the alarming decline of editorial standards for accuracy and grammar, and coherent thought; and the dumbing down of journalism across the board," Mr. MacArthur wrote.
Well, if any magazine can afford to take a stand against the Internet culture, it's Harper's.
Update: The original post mistakenly said that the website launched in 2013. The website actually launched in 1996 and became available digitally in 2003.