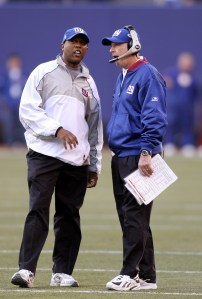 The common perception of the NFL team trainer is that of a normal-size man among monsters. Trafficking in athletic tape and ointments, he trots onto the field, attending fallen players. The less he is seen, the better. Basically, he's a functionary.
Not so with the New York Giants's Ronnie Barnes. Mr. Barnes, who became the team's head trainer in 1980, has seen his responsibilities increase through the decades—he acquired his current lofty title, senior vice president of medical services, in 2003—and, as a savvy behind-the-scenes operator, he has become one of the most powerful members of the entire organization.
"If they had an organizational chart—a real organizational chart—there's ownership, and then there's Ronnie Barnes," said Phil McConkey, a former Giants wide receiver, and one of many players who consider the trainer a close friend.
During games, Mr. Barnes, who's in charge of the team's extensive medical records, acts as the general of a 15-person army of trainers, orthopedists and specialists patrolling the sideline, which he commands via radio. Afterward, he works with team P.R. to fulfill the league mandate of disclosing injuries, while adhering to the competitive mandate of not disclosing too much.
By all accounts, Mr. Barnes is most responsible for the Giants's relationships with the Hospital for Special Surgery, Hackensack University Medical Center and New York Presbyterian Medical Center—all three of which are major Giants advertisers. And when Quest Diagnostics reached out to negotiate a multimillion-dollar deal to rename the team's practice facility, it was Mr. Barnes who received the first phone call.
All that, and he still tapes ankles. In fact, Mr. Barnes excels at the nuts and bolts of the job. He has twice been named Trainer of the Year by the National Athletic Trainer's Association and was inducted into the organization's Hall of Fame in 1999.
"I'm always searching for something that will help the organization and these players," Mr. Barnes said. "Have I expanded my role here with the Giants? By all means."
This is a slight understatement. According to former head coach Jim Fassel, no one in the NFL has more job security than Mr. Barnes. "He's as close as you can get to a Supreme Court appointment," he said.
***
And yet the most important aspect of Mr. Barnes's job won't turn up on his resume. He's an "eyes and ears" type, according to former Giants punter Jeff Feagles, and has learned to straddle the upstairs/downstairs divide of the owner's suite and the trainer's room, thereby serving as a conduit from senior management to the players, and vice versa.
His relationship with the Mara family, which owns 50 percent of the Giants, is well documented. When longtime owner Wellington Mara was dying from cancer in 2005, Mr. Barnes sat a nightly vigil by his hospital bed. Ann Mara, Wellington's widow, refers to the trainer as her twelfth child.
"I didn't know how much juice Ronnie had before my first year [with the Giants]," former linebacker Antonio Pierce said. "That's when I knew, whoa, this is deep."
To the players, Mr. Barnes is part trainer, part "amateur psychologist," as Phil Simms put it. By taking an interest in athletes' personal lives, he instills a sense of trust, and they come to understand that his domain, the trainer's room, is a safe haven, which is rare in the cutthroat world of the NFL and its nonguaranteed contracts. According to Mr. Pierce, it wasn't uncommon for the trainer, having caught wind that a player might get cut, to drop a hint that the player better pick it up.
More often, Mr. Barnes's concern took the form of protecting players from their own competitive impulses and that of their coaches—interactions that are fraught with the inherent tension between player safety and winning.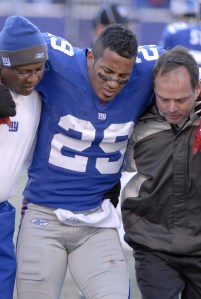 Joe Morris, a former star Giants running back, recalled sustaining a concussion during a 1985 game in New Orleans. Awareness of the long-term effects of concussions was virtually nonexistent, as was any concussion protocol. But if Mr. Barnes thought a player was concussed, his signature move was to take the player's helmet and lock it in a trunk.
Mr. Morris remembers the conversation between the trainer and coach Bill Parcells. "Bill goes, 'I need him back in the game.' And Ronnie just goes, 'No, he goes into the game when I say he does and when the doc says he does,'" Mr. Morris recounted, still in awe. "Now, you gotta have a set of stones to tell Bill Parcells that."
***
Mr. Barnes's comfort traversing disparate worlds traces back to his childhood in Wilson, N.C., where he was handpicked to become one of the first black students to integrate an all-white middle school. "They assembled 20 of us and said, 'We think you're the ones who have the best chance to survive,'" he recalled.
Mr. Barnes was never much of an athlete, but he loved the game. In high school, he latched onto a local orthopedist, and the team trainer, Dr. A. Tyson Jennette, who was an early adopter of sports medicine principles. On the bus, Mr. Barnes would read medical manuals and pepper Dr. Jennette with questions. On overnight trips, they would share hotel rooms.
"In 1968, a white doctor and a black boy rooming in a hotel together—now that was a big deal," Dr. Jennette said.
Mr. Barnes earned a scholarship to East Carolina University, where, in 1975, he became the first graduate of the school's athletic training program. He spent the next several years at Michigan State, earning his master's degree.
In 1980, the year Mr. Barnes joined the Giants, the organization was undergoing a much-needed overhaul. As an outmoded mom-and-pop operation, the team had failed to make the playoffs for the better part of two decades. The year before, General Manager George Young, quarterback Phil Simms and a young defensive coordinator named Bill Parcells were brought on board. (One year later, Lawrence Taylor would arrive.)
Mr. Barnes's hire was part of the overall upgrade, Brad Benson, a Giants offensive lineman from 1978 to 1987, said: "We used to have steak before the game, which is the worst thing you can have. Ronnie said, 'No more steak. Pasta.' 'No more salt pills. Potassium.' He brought modern science to the organization."
The trainer enjoyed success off the field as well. In the mid-1980s, Mr. Barnes entered a partnership with Dr. Russell Warren, the Giants longtime team physician, on a line of physical therapy clinics, dubbed Professional Sports Care, which expanded to 50 sites before Mr. Barnes sold his share. (While Mr. Barnes would not discuss dollar figures, a source claimed the sale went for around $20 million.)
According to Bob Whitfield, an offensive lineman for the Giants in the mid-2000s, Mr. Barnes's entrepreneurial achievements only enhanced his aura around the building. "Guys were like, 'Hey, it's Ronnie Barnes. He made a shitload of money on some medical shit. He's friends with the owners. He's connected!'"
***
"Call Ronnie."
It's a refrain among Giants and ex-Giants who have come to rely on the organization's Mr. Fix-It.
Whenever Phil Simms's back tightens up, he calls Ronnie and drives from his Franklin Lakes home to the Giants facilities. When Phil McConkey's mother was diagnosed with cancer, he called Ronnie and was hooked up with world-class oncologists. When Joe Morris's daughter needed a doctor for her sports hernia, he called Ronnie.
"I know instances where he's pulled strings for guys who aren't covered by insurance," Mr. McConkey said. "Me and hundreds of ex-players will be forever indebted to him."
Given this, it's not too surprising that Mr. Barnes was the first person from the Giants organization called after Plaxico Burress shot himself in the leg in a nightclub in 2008.
The star wide receiver was rushed to Weill Cornell Medical Center, a Giants partner hospital, and admitted under an alias, Harris Smith. He was treated by a doctor who had been called in that night despite not being scheduled to work and who did not report the shooting to police, as required by law. (The doctor was later suspended.)
Subsequent to the incident, Mr. Barnes found himself at the center of allegations that the Giants tried to cover up the shooting. Mayor Michael Bloomberg publically ripped the organization, while a police spokesperson characterized the team's response to queries as "a universe of silence."
When I asked Mr. Barnes whether he had phoned that doctor or had been involved with any cover-up, he said, "Absolutely not. Are you kidding me?"
"I didn't contact anyone," he continued. "He was already being treated when I got to the hospital. I'm just glad he didn't die."
Mr. Pierce, who was with Mr. Burress that night (and placed the phone call to Mr. Barnes), said reaching out to the trainer was a reflex move.
"Even to this day, when my daughter gets a bloody nose or gets sick, I call Ronnie," he said. "When that happened, the first person I thought could help was Ronnie. In my head, I was like, 'Bring him to the stadium. Ronnie'll take care of it.'"
***
Even for a man at the top of his profession, challenges abound for Ronnie Barnes. Keeping abreast of the latest medical research is mandatory, and, to this end, he spends his off-seasons flying to conferences and reading the latest literature.
There is also the more immediate challenge of reversing the Giants's recent run of injury-plagued seasons. According to the Adjusted Games Lost metric developed by FootballOutsiders.com, which measures the impact of injuries on teams, the Giants have ranked 25th, 26th and 22nd in the league over the past three seasons. (This year is off to a rough start, with injuries to several key players.)
There are challenging moral questions for Mr. Barnes to ponder as well. Namely, how does a man who has dedicated himself to the health of football players respond to the burgeoning awareness of the dangers of head injuries?
Mr. Barnes sits on the NFL's Head, Neck and Spine Committee and the Return-to-Play Subcommittee, and he says he's proud to have helped develop the new protocol of having independent neurological consultants on the sidelines during games. While the league's dedication to finding honest science research on the subject may be in question, there should be no doubt that Mr. Barnes is a highly dedicated and competent professional trying his best.
Still, with the way the research seems to be heading, the possibility exists that even Ronnie Barnes's best efforts might not be good enough.
"Does TBI [traumatic brain injury] concern me? Yes it does," he conceded. "But I'm more worried about the moment. I make certain I identify each person on the sideline that gets TBI, so that I can sleep at night."