Helen Marten's brand of precocity tends to unsettle. Her solo show at Bard's CCS, curated by Beatrix Ruf, had been described to me by artists and art professionals as gratuitous and overhyped and Ms. Marten herself as the Macaulay Culkin of the art world (perhaps because of her youth—she is 27—and blond pixie cut). Yet her work is actually quite good. Her facility with materials and the mechanics of language is pleasurable to see.

One piece on view, a welcome mat replete with words and 3-D shoe-trees, plays with Picasso's cubist vocabulary of equivalences between flatness and three dimensionality.  Her videos are marked by languid deadpan voice-overs, animated cartoon characters and low-level special effects conflating digital and linguistic representation. They take themselves seriously and deliver results. She's good at simple gestures, too: I liked her installation that put a border of analog clock numbers around the glass pane of the museum's picture window.
Ms. Marten's work is aligned with that of Jordan Wolfson, another young video artist showing with Johann Konig's gallery in Berlin. Her world is one of potted plastic office trees and artificial moss, Italian food sold at supermarket chains and online video tutorials. She's a visual linguist doing a semiotics of the now. If her predecessors are Picasso and Sarah Lucas, her subject is the world around us.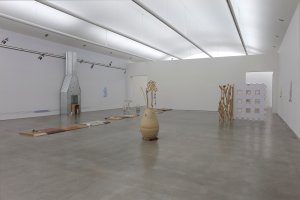 Yet Sarah Lucas's wordplay was dirty, and Picasso's was, too. There is nothing even vaguely libidinal about Ms. Marten's work. Although her "Mozart Drunks" paintings, all more or less of the composer's face screen printed on leather and ostrich skin, feature dangling liquor bottles, the work itself looks as though it were created one sober mid-afternoon in the sunlit, Ikea-furnished office of some mildly prestigious urban curatorial residency next to an open copy of Roland Barthes's Image, Music, Text and an open bottle of lemon-lime Perrier. It is positively prepubescent in its relationship with sex and selfhood, and it is almost unnervingly well-behaved in relation to power and politics.
Ms. Marten's work might not yet represent "one of the most fertile … artistic productions of our time," as the exhibition catalog touts, but it's competent art, and it sometimes manages to be fairly funny. If its biggest fault is that it is a little bland, the bigger fear is that this blandness represents not its youth but the future of contemporary art itself, in which ambitious and competent curators, writers and artists produce clever and passionless, totally correct and perfectly professionalized art, and all the rebellious, resistant or raunchy people go take a hike. (Through
Sept. 22)