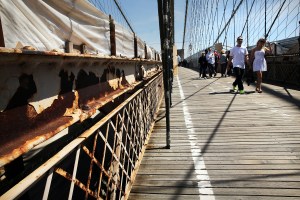 That friend that freaks out when you walk over the Brooklyn Bridge and it begins to sway? She may not be all that wrong.
According to a new report by the Associated Press, New York and New Jersey are home to thousands of "structurally deficient" bridges that are in need of "crucial repairs." In New York alone, over 400 bridges are in a state of "advanced deterioration."
Brooklyn in particular has several seriously failing bridges – 15 are on the "fracture critical" list, which means they are "at risk of collapse if a single, vital component fails." The Brooklyn Bridge is both structurally deficient and fracture critical, ranking among the nation's worst.
"The physics is that they could fall at a moment's notice, or next month or next year – if they're left in the current condition," Barry LePatner, attorney and expert on construction industry reform, and author of two books, said. "It's a ticking time bomb."
The Brooklyn Bridge – the longest suspension bridge in the world when it was built in 1883 – was never even designed to hold vehicles. Now, with traffic at 120,000 cars and thousands of pedestrians each day, it's finally undergoing a four-year, $500 million rehabilitation that will end in 2014.
What about the rest of the bridges in critical conditions? A lack of funding is often the go-to excuse. But we know the Port Authority has been busy making the World Trade Center hub the most expensive train station in the world; so, how about we first focus on making sure we don't have to swim our way to work every morning? That would be nice.