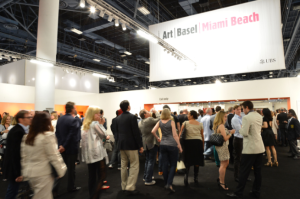 Art Basel Miami Beach organizers this morning released the list of 258 exhibitors (that's one more than last year) that will appear in the fair, which runs at the Miami Beach Convention Center from Dec. 5 through Dec. 8, with a VIP opening on Dec. 4. A remarkable 84, or about one-third, of all the galleries have a space in New York, a slight uptick from last year's 77. Thirty-one countries are represented among the dealers.
Newcomers from New York include Brooklyn's Real Fine Arts, who will show painter Mathieu Malouf in the single-artist Positions section, 47 Canal, who will offer up John Finneran and Alisa Baremboym in the two-or-three-artist Nova section, and Elizabeth Dee, who will appear in the main Galleries section. Another new addition this year is the Edition section, which sports 13 exhibitors, including New York's Two Palms, Pace Prints and Carolina Nitsch.
The full exhibitor list follows below.
GALLERIES
303 Gallery, New York
A Gentil Carioca, Rio de Janeiro
Miguel Abreu Gallery, New York
Acquavella Galleries, New York
Alexander and Bonin, New York
Ameringer | McEnery | Yohe, New York
Art:Concept, Paris
Alfonso Artiaco, Naples
Galerie Guido W. Baudach, Berlin
Galería Elba Benítez, Madrid
Ruth Benzacar Galería de Arte, Buenos Aires
John Berggruen Gallery, San Francisco
Bernier/Eliades, Athens
Blum & Poe, Los Angeles
Marianne Boesky Gallery, New York
Tanya Bonakdar Gallery, New York
Mary Boone Gallery, New York
Bortolami, New York
BQ, Berlin
Luciana Brito Galeria, São Paulo
Gavin Brown's enterprise, New York
Galerie Buchholz, Cologne, Berlin
Buchmann Galerie, Berlin, Agra
Campoli Presti London, Paris
Valerie Carberry Gallery, Chicago
Casa Triângulo, São Paulo
Contemporary Fine Arts, Berlin
Cheim & Read, New York
Chemould Prescott Road, Mumbai
Mehdi Chouakri, Berlin
James Cohan Gallery, New York, Shanghai
Sadie Coles HQ, London
Galleria Continua, San Gimignano, Beijing, Boissy-le-Châtel
Paula Cooper Gallery, New York
Corbett vs. Dempsey, Chicago
CRG Gallery, New York
Galerie Chantal Crousel, Paris
DAN Galería, São Paulo
Thomas Dane Gallery, London
Maxwell Davidson Gallery, New York
Massimo De Carlo Milan, London
Galería Guillermo de Osma, Madrid
Elizabeth Dee, New York
Galerie Eigen + Art, Berlin, Leipzig
Henrique Faria Fine Art, New York
Foksal Gallery Foundation, Warsaw
Galeria Fortes Vilaça, São Paulo
Peter Freeman, New York
Stephen Friedman Gallery, London
Gagosian Gallery, New York, Beverly Hills, London, Hong Kong, Paris, Rome, Athens, Geneva
Galerie 1900-2000, Paris
Gavlak Gallery, Palm Beach
Gladstone Gallery, New York, Brussels
Galerie Gmurzynska Zug, Zurich, St. Moritz
Galería Elvira González, Madrid
Goodman Gallery, Johannesburg, Cape Town
Marian Goodman Gallery, New York, Paris
Galerie Bärbel Grässlin, Frankfurt am Main
Alexander Gray Associates, New York
Howard Greenberg Gallery, New York
Greene Naftali Gallery, New York
Galerie Karsten Greve AG, St. Moritz, Cologne, Paris
Cristina Guerra Contemporary Art, Lisbon
Kavi Gupta Gallery, Chicago, Berlin
Hammer Galleries, New York
Hauser & Wirth, Zurich, London, New York
Herald St, London
Galerie Max Hetzler, Berlin
Hirschl & Adler Modern, New York
Rhona Hoffman Gallery, Chicago
Edwynn Houk Gallery, New York, Zurich
Xavier Hufkens, Brussels
Ingleby Gallery, Edinburgh
Alison Jacques Gallery, London
Galerie Martin Janda, Vienna
Annely Juda Fine Art, London
Casey Kaplan, New York
Paul Kasmin Gallery, New York
kaufmann repetto, Milan
Sean Kelly Gallery, New York
Anton Kern Gallery, New York
Kewenig Galerie, Berlin, Palma de Mallorca
Kicken Berlin, Berlin
Galerie Peter Kilchmann, Zurich
Michael Kohn Gallery, Los Angeles
Johann König, Berlin
David Kordansky Gallery, Los Angeles
Tomio Koyama Gallery, Tokyo, Kyoto, Singapore
Andrew Kreps Gallery, New York
Galerie Krinzinger, Vienna
Kukje Gallery, Seoul, New York
kurimanzutto, Mexico City
Yvon Lambert, Paris
Landau Fine Art, Montreal
Simon Lee Gallery, London, Hong Kong
Lehmann Maupin, New York, Hong Kong
Galerie Lelong, Paris, New York
Dominique Lévy Galerie, New York
Lisson Gallery, London, Milan
Long March Space, Beijing
Luhring Augustine, New York, Brooklyn
Magazzino, Rome
Mai 36 Galerie, Zurich
Jorge Mara-La Ruche, Buenos Aires
Matthew Marks Gallery, New York, Los Angeles
Marlborough Gallery, Monte Carlo, Barcelona, Madrid, New York, London
Mary-Anne Martin / Fine Art, New York
Barbara Mathes Gallery, New York
Galerie Hans Mayer, Düsseldorf
McCaffrey Fine Art, New York
Anthony Meier Fine Arts, San Francisco
Galerie Urs Meile, Beijing-Lucerne, Lucerne, Beijing
kamel mennour, Paris
Metro Pictures, New York
Meyer Riegger, Karlsruhe, Berlin
Galerie Mezzanin, Vienna
Galeria Millan, São Paulo
Robert Miller Gallery, New York
Victoria Miro Gallery, London
Mitchell-Innes & Nash, New York
Mnuchin Gallery, New York
Stuart Shave | Modern Art, London
The Modern Institute, Glasgow
Galerie nächst St. Stephan Rosemarie Schwarzwälder, Vienna
Edward Tyler Nahem Fine Art, New York
Helly Nahmad Gallery, New York
Francis M. Naumann Fine Art, New York
Galeria Leandro Navarro, Madrid
Galerie Nelson-Freeman, Paris
neugerriemschneider, Berlin
Galleria Franco Noero, Turin
David Nolan Gallery, New York
Galerie Nordenhake, Berlin, Stockholm
Galerie Nathalie Obadia, Paris, Brussels
Galería OMR, Mexico City
P.P.O.W., New York
Pace, New York, Beijing, London
Pace/MacGill Gallery, New York
Franklin Parrasch Gallery, New York
Galerie Perrotin, Paris, Hong Kong, New York
Friedrich Petzel Gallery, New York
Galerie Eva Presenhuber, Zurich
Proyectos Monclova, Mexico City
Ratio 3, San Francisco
Almine Rech Gallery, Paris, Brussels
Reena Spaulings Fine Art, New York
Regen Projects, Los Angeles
Richard Gray Gallery, Chicago, New York
Roberts & Tilton, Culver City
Rodolphe Janssen, Brussels
Galeria Nara Roesler, São Paulo
Galerie Thaddaeus Ropac, Salzburg, Paris
Andrea Rosen Gallery, New York
Michael Rosenfeld Gallery, New York
Lia Rumma, Milan, Naples
Salon 94, New York
SCAI The Bathhouse, Tokyo
Esther Schipper, Berlin
Galerie Thomas Schulte, Berlin
Jack Shainman Gallery, New York
Sicardi, Houston
Sies + Höke, Dusseldorf
Sikkema Jenkins & Co., New York
Bruce Silverstein, New York
Skarstedt Gallery, New York, London
Fredric Snitzer Gallery, Miami
Sperone Westwater, New York
Sprüth Magers Berlin London, Berlin, London
Nils Staerk, Copenhagen
Standard (Oslo), Oslo
Christian Stein, Milan
Stevenson, Cape Town, Johannesburg
Galeria Luisa Strina, São Paulo
Galería Sur, Punta del Este
Timothy Taylor Gallery, London
Team Gallery, New York
Galerie Thomas, Munich
Galerie Barbara Thumm, Berlin
Tilton Gallery, New York
Leslie Tonkonow Artworks + Projects, New York
Tornabuoni Art, Paris
Van de Weghe, New York
Van Doren Waxter, New York
Vermelho, São Paulo
Susanne Vielmetter, Los Angeles, Culver City
Waddington Custot Galleries, London
Galleri Nicolai Wallner, Copenhagen
Washburn Gallery, New York
Wentrup, Berlin
Michael Werner, New York, London
White Cube, London, Hong Kong, São Paulo
Galerie Jocelyn Wolff, Paris
Zeno X Gallery, Antwerp
Zero…, Milan
David Zwirner, London, New York
NOVA
47 Canal, New York, John Finneran, Alisa Baremboym
80M2, Lima, Daniela Ortiz, Rita Ponce de Leon, David Zink Yi
Altman Siegel, San Francisco, Shannon Ebner, Chris Johanson
Office Baroque, Antwerp, Aaron Bobrow, David Diao
Casas Riegner, Bogotá, Jose Antonio Suarez Londoño, Johanna Calle
Cherry and Martin, Los Angeles, Matt Connors, Bernard Piffaretti
Galerie Frank Elbaz, Paris, Blair Thurman, Mung Thomson, Davida Balula
Kamm, Berlin, Christoph Meier, Claudia Wieser
Karma, Zurich, Pamela Rosenkranz, Keichi Tanaami
Leo Koenig, New York, Nicole Eisenman, Tony Matelli
Labor, Mexico City, Teresa Margolles, Pedro Reyes, Jill Magid
Layr, Vienna, Plamen Dejanoff, Lisa Holzer
Tanya Leighton, Berlin, Aleksandra Domanovic, Oliver Laric
Leme, São Paulo, Mariana Mauricio, Mauro Piva, Sandra Gamarra
Maisterravalbuena, Madrid, Daniel Jacoby, Nestor Sanmiguel Diest
Meessen De Clercq, Brussels, Susan Collis, Ellen Harvey, Evariste Richer
Mendes Wood, São Paulo, Deyson Gilbert, Marina Simão
Minini Francesca, Milan, Matthias Bitzer, Francesco Simeti
Mor Charpentier, Paris, Oscar Munoz, Julieta Aranda, Voluspa
NON, Istanbul, Meric Algün Ringborg, Erdem Tasdelen
Overduin and Kite, Los Angeles, Nick Relph, Math Bass
Peres Projects, Berlin, David Ostrowski
Simon Preston Gallery, New York, Hans Schabus, Josh Tonsfeldt
RaebervonStenglin, Zurich, Saadane Afif, Karsten Födinger
Revolver, Lima, Giancarlo Scaglia, Jerry B. Martin, Jose Carlo Martinat
Galerie Micky Schubert, Berlin, Lydia Gifford, Sue Tompkins
Schwartz Anita, Rio de Janeiro, Abraham Palatnik, Antonio Manuel, Carla Guagliardi
SKE, Bangalore, Bharti Kher, Sheela Gowda, Prabhavathi Meppayil
Spinello Projects, Miami, Agustina Wodgate, Naama Tsabar, Sinisa Kukec
T293, Rome, Naples, Sam Falls, Wyatt Kahn
Travesía Cuatro, Madrid, Gonzalo Lebrija, Jorge Méndez Blake
Untitled, New York, Matthew Chambers, Phil Wagner
Vilma Gold, London, Charles Atlas
Wallspace, New York, John Divola, Gaylen Gerber
POSITIONS
Andersen's, Copenhagen, Ulrik Heltoft
Arratia Beer, Berlin, Gabriel Acevedo Velarde
Baró, São Paulo, Lourival Cuquinha
Bureau, New York, Tom Holmes
Cintra + Box4, Rio de Janeiro, Laercio Redondo
Galerie Crevecoeur, Paris, Jorge Pedro Nunez
Gaudel de Stampa, Paris, Dove Allouve
Kalfayan, Athens, Thessaloniki, Stefanos Tsivopoulos
La Central, Bogotá, Nicolas Consuegra
Liprandi, Buenos Aires, Vijai Patchineelam
Nogueras Blanchard, Madrid, Barcelona, Juan Lopez
One and J., Seoul, Seung Yul Oh
Parra & Romero, Madrid, Oriol Vilanova
PSM, Berlin, Nadira Husain
Real Fine Arts, Brooklyn, Mathieu Malouf
Tang Contemporary Art, Beijing, Bangkok, Hong Kong, Wang Yuyang
EDITION
Niels Borch Jensen Galerie, Copenhagen
Alan Cristea Gallery, London
Crown Point Press, San Francisco
gdm GDM, Paris
Gemini G.E.L. LLC, Los Angeles
Sabine Knust, Munich
Carolina Nitsch, New York
Pace Prints,  New York
The Paragon Press, London
Polígrafa Obra Gráfica, Barcelona
Paul Stolper Gallery, London
Two Palms, New York
Singapore Tyler Print Institute, Singapore