There have been plenty of fashion-related moments on and around the High Line, from an Alexander Wang pop-up to a Diane von Furstenberg-endorsed Project Runway eco-fashion challenge, but Thursday night's Back to School Fashion Show marked the park's first ever public fashion event.  Unfortunately, in order to clear the amount of space necessary for a catwalk, People's Pops was shut down early for the night.
A combination of teen outreach event and attempt to grab early Fashion Week buzz, the show featured looks from six designers (including Junk Food Clothing, LaQuan Smith, and Boy Meets Girl) lumped together under the theme of "back-to-school fashion." The outdoor show did look and smell a bit like Fashion Week, with pumping music, hair-flicking models clomping down the runway in sky-high heels, and gift bags nestled under seats.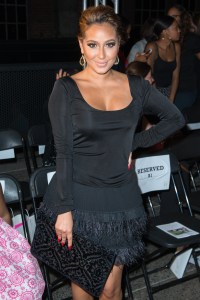 There was even a light dusting of star power: former Cheetah Girl Adrienne Bailon showed up 20 minutes into the show, spending her time snapping iPhone pictures from the front row, while fourteen-year-old Shameless star Emma Kenney sat primly next to her mother a few seats down.
Kenney, who spends part of the year filming Shameless in L.A. and Chicago and the rest in Scotch Plains, NJ, where she's a member of her school's journalism club, told the Observer that she'd come to the show looking for "sweaters and leggings" for her fall wardrobe. ("I wear sweaters all the time, even when it's 80 degrees in L.A.," she explained.)
Nonetheless, when it came to the actual clothes, there was very little that would qualify as fall attire. Most of the styles — plunging keyhole necklines, bare midriffs reaching from underboob to just above the bikini line, and skintight pleather pants — wouldn't pass dress code muster at Chapin or Spence. It's also a bit hard to imagine a plastic dress working under a heavy coat.
Since the show was also an attempt by the High Line to get local teens involved in events at the park, students helped cast models and style the show. A few also modeled alongside the professionals, with one young woman's entire family standing up to cheer and take iPad videos as she made her debut.
"We wanted to show that there are different entry points into fashion," Friends of the High Line Community Engagement Manager Erycka Montoya Perez told the Observer, adding that two of the night's looks were design collaborations between students and pros. The High Line's teen outreach has also led to a film series — they screened inspirational fare like Freedom Writers — and a Green Corps program that teaches college kids about gardening.
As the show closed, there was one surefire way to tell we weren't at Lincoln Center for NYFW: there were refreshments, and people actually ate them, with a pile of Stick and Pop cake pops disappearing by the time show-ender "Blurred Lines" came on. On the plus side, despite the musical stylings, there was no mention of Miley Cyrus.