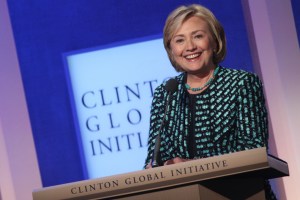 Former Secretary of State Hillary Clinton will host a fund-raiser for front-running mayoral candidate Bill de Blasio next month, his campaign announced this afternoon.
The former first lady and her husband, Bill Clinton, endorsed the Democrat last week in a joint statement.
The news comes as Ms. Clinton appears to be increasing her visibility as she gears up her own expected  campaign for president, with a recent interview in New York magazine and a starring role a this week's Clinton Global initiative.
Mr. de Blasio has long-standing ties to the Clinton family. He worked at the U.S. Department of Housing and Urban Development under Mr. Clinton and managed Ms. Clinton's 2000 senate campaign.
A campaign spokesman declined to provide any additional details about the event, but sources said it will likely take place in the city.