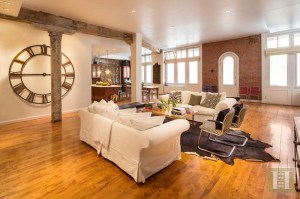 Craig Thomas made his fame and fortune writing a television show about a group of friends who live in Manhattan, but to do it, he had to move out to Los Angeles. Now, he's (probably) moving back: the How I Met Your Mother and American Dad screenwriter has just picked up a Tribeca condo with his wife Rebecca Alson-Milkman, a dancer, for $6.6 million.
And they bought it from that most Manhattan of couples: the Novogratzes. No, not Fortress Investment Group principal Michael. Or Robert (the apartment's only got five bedrooms—hardly enough for HGTV's Home by Novogratz interior design duo Robert and Courtney's seven kids). Or Acumen Fund founder Jacqueline. No, this time it's John, a mere senior managing director at the Millenium Partners hedge fund, and his wife Tina.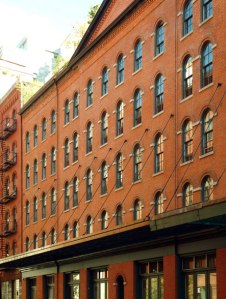 Mr. Thomas and Ms. Alson-Milkman's new pad is a sprawling loft, of the sort that might pass for an unreasonably hip TV set. The ground-level apartment at 39 Vestry Street spans two floors, and includes a garden and a massive play/media room area that's more than 50 feet deep and 15 to 20 feet wide. The couple has at least one child together, but they could also put the space to use as a dance studio for Ms. Alson-Milkman, who, according to her website, "presents provocative dances about current political and social issues in intimate settings in order to promote conversation and change in our familial, local and national communities. Her work is grounded in the symbiotic relationship of process and product." And what product!
Downstairs there are two bedrooms and a windowless office. Upstairs, on the entry level, there another three bedrooms, each with either an en-suite or closely adjacent bathroom, plus a fairly spacious eat-in kitchen. (As in any loft, though, you're not going to get a separate dining room—the living and dining areas are a massive, co-mingled 1,000-square-foot space.)
As is to be expected in the white-hot Tribeca market, broker Richard Orenstein at Halstead Property managed to get $100,000 over the Novogratzes' $6.5 million asking price out of Mr. Thomas and Ms. Alson-Milkman.