The Elie Tahari presentation at the designer's 5th Avenue store was packed, and as The Observer entered the all-white space where many models (and even more people) were corralled, it was not hard to see why. The Spring 2014 collection was a mix of sleek neutrals and bright, rich color, and there were plenty of waiters standing by with full glasses of champagne. The mood in the center of the room was festive but rather cramped, and we did our best to enter the fray without spoiling any iPhone snapshots (that we know of).
The presentation also marked the 40th anniversary of the brand, but after a few minutes and a lap around the room, we realized that something else set it apart: rather than lining the walls like silent sentries of chicness, the models took notice of the people photographing them, turning to allow for a better angle or occasionally offering a smile. Models were allowed to smile? Let it never be said we didn't learn anything during Fashion Week.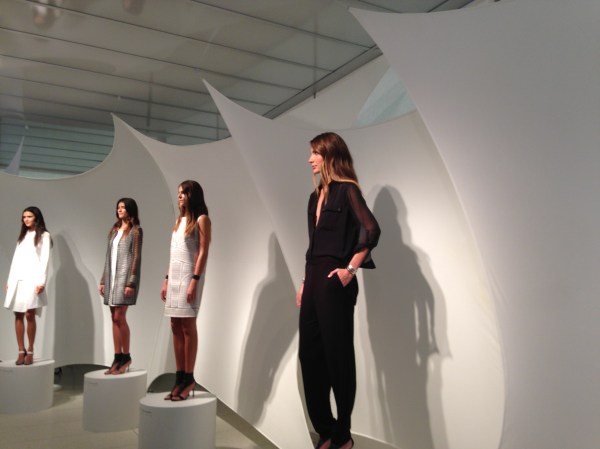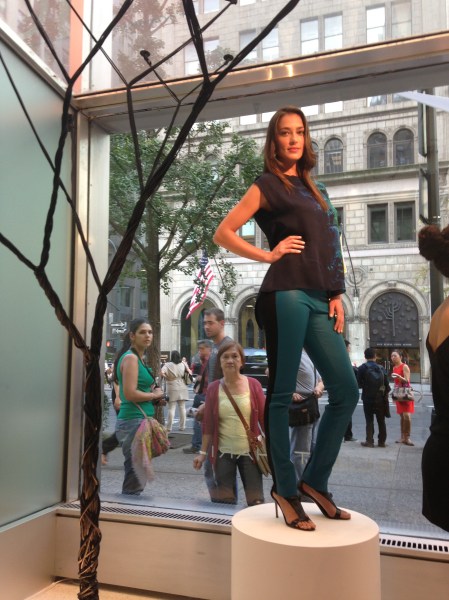 They chatted with other attendees.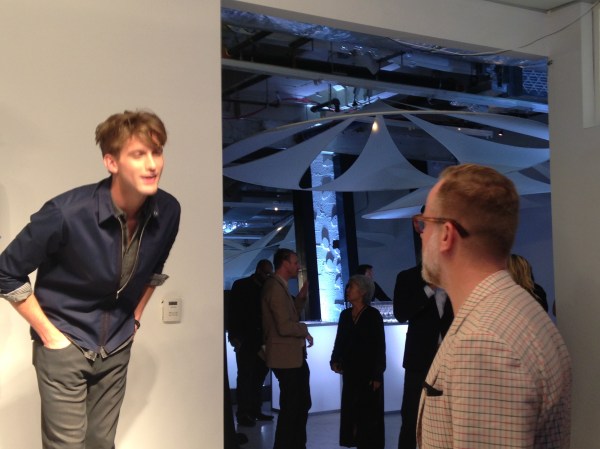 They did their best with what was essentially a 360-degree mirror made up of other human beings.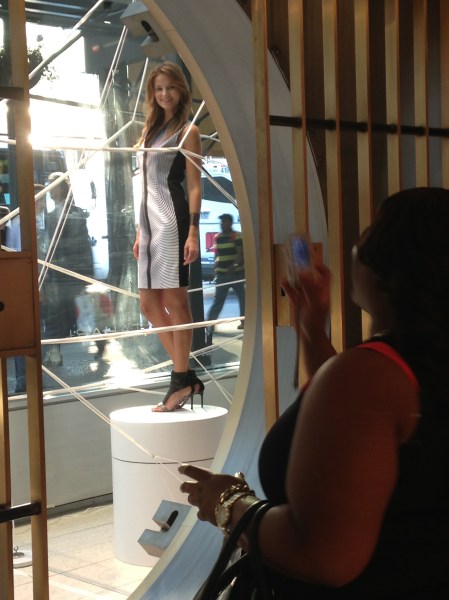 Perhaps it was the white backdrop and white round pedestals that the models perched on (only the women stood alone; the men stood together on risers, like a yearbook photo of the most absurdly good-looking class in history) but the presentation took on the quality of a living museum, with some people even having their own pictures taken in front of the models. The Observer, sadly, was too shy to follow suit.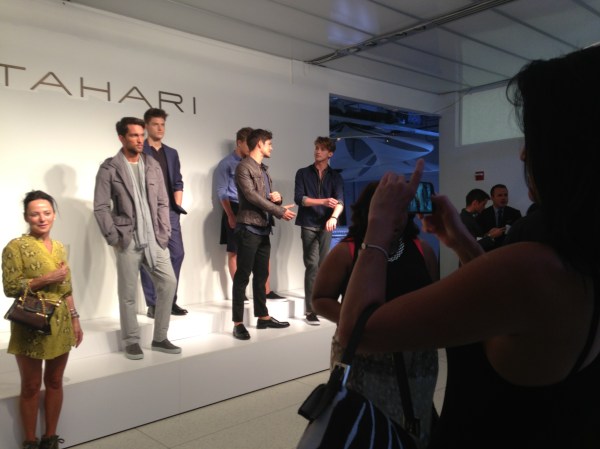 Of course, this event was also more well-attended than your average museum exhibit. We despaired of getting an interview once and for all when we overheard a man wearing a brocade suit and a pirate-esque eye patch apologize to another reporter for sneaking ahead of her in the interview queue, and while the models stood elevated above the crowd, it was rather difficult to get closer without jostling someone's arm, phone or glass of champagne.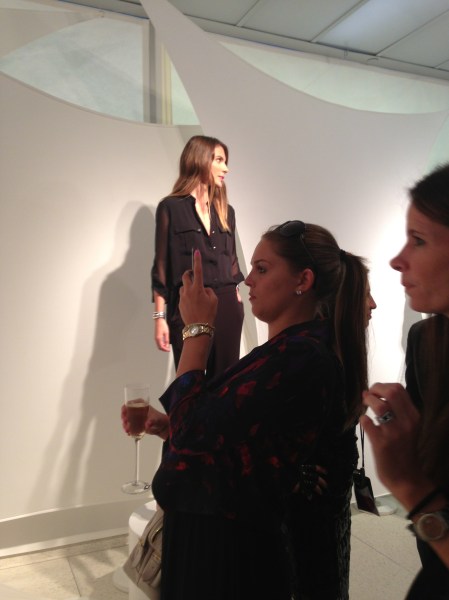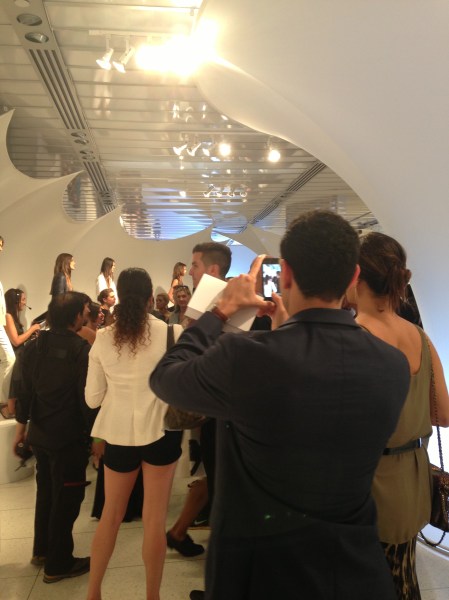 And after a while, we started to feel that the situation was rather topsy turvy: the photographers and reporters attempted to take snapshots only to be blocked by fellow passersby, while the models surveyed the scene (and the attendees) unobstructed, and flashbulbs were aimed into the crowd.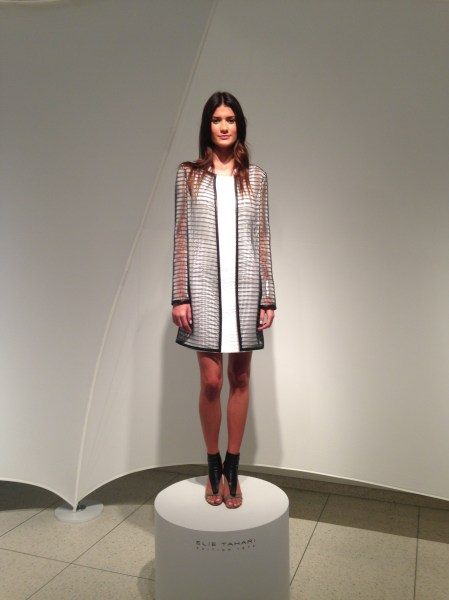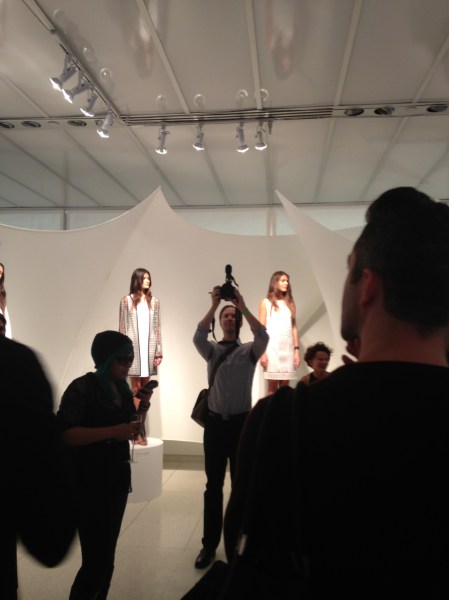 It kind of freaked us out. Lest the remainder of the afternoon devolve into a college Philosophy seminar ("Can a photograph truly steal one's soul?"), we made our escape.
But we couldn't help stealing a final glance back at the fishbowl on our way out.