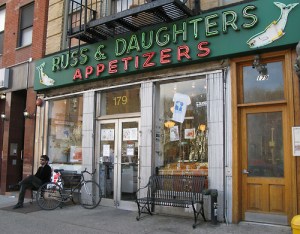 Stepping into Russ & Daughters is akin to stepping back in time — except there's nowhere to sit. The gem of the Lower East Side is a bastion of old New York, with four generations of the Russ family serving smoked fish, caviar and chocolate babka takeout from their tiny storefront at 179 East Houston for nearly a century.
But if you just want a quick bite, where do you eat it? The current location doesn't have room for seating, unless you're lucky enough to snag one of the benches in front of the building. Most likely, you'll wander along hunting for a place to savor your lox bagel or smoked herring until you reach a nearby Starbucks, where old New York's charm quickly gives way to the insipid, corporate flavor of burnt coffee.
Now, it seems the current owners — cousins Joshua Russ Tupper and Niki Russ Federman — are looking toward the family business' future, and we all might have a place to enjoy our bagels … and beer. The company has applied to Community Board 3 for a full liquor license under the name "Russ & Daughters Cafe (Fourthgen LLC)" at a location just a block away from its debut 1914 storefront.  The new brick-and-mortar at 127 Orchard Street has plenty of space, with a footprint that occupies the full width of the block.
So is the company expanding with a new cafe and bar — or even relocating? Since the hearing for a liquor, wine and beer license on Sept. 16 was first posted on the community board's calendar, the company's name has been crossed out. A government employee reached by phone couldn't comment specifically on R&D, but she did mention that names are typically removed when an application has been withdrawn. The deli's publicist Jen Snow said the listing was "an error", though R&D co-owner Joshua Tupper's personal LinkedIn lists him as a proprietor of Fourthgen.
Whatever unfolds, we'll all keep fighting over those benches a little longer, or — throwing decorum to the wind — freely enjoy our fish Louis C.K.-style.