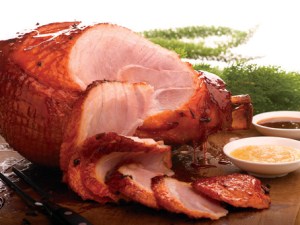 The Jewish Daily Forward wins the prize for best correction of the week.
In an August story about how Mark Leibovich drew on his "Jewish outsider status" for his  Washington tell-all This Town, the Forward erroneously implied that outgoing Israeli Ambassador Michael Oren ate ham at a "high-profile" reception.
Mr. Leibovich wrote that Mr. Oren "hovered dangerously over the buffet table, eyeing a massive Christmas ham" but the book did not say that Mr. Oren actually consumed the non-kosher, cloven hoofed animal.
"The Forward previously reported that Oren reached for the ham, which misrepresented what Leibovich wrote in his book. Leibovich's account never insinuated that Oren ate the ham. The Forward regrets the error," reads the correction.
The paragraph in the article has been revised to reflect the correction, and now includes a parenthetical noting that Mr. Oren's press officer contacted the newspaper to correct the record:
Jewish power, a long-standing myth or reality in Washington, depending on your viewpoint, was not a focus of Leibovich's book. But Leibovich could not help observing some of the Jewish players in action, including the Israeli ambassador to Washington, Michael Oren as he "hovered dangerously over the buffet table, eyeing a massive Christmas ham" during a high-profile reception. Oren's security detail, the book noted, "was trained to protect him from terrorists, not treif." (In a statement to the Forward from his press officer, Oren, who states he keeps kosher, adamantly denies having partaken in any ham.)
Got it? The Israeli ambassador merely looked like he might eat treif. But he didn't eat it, because he is keeps kosher.