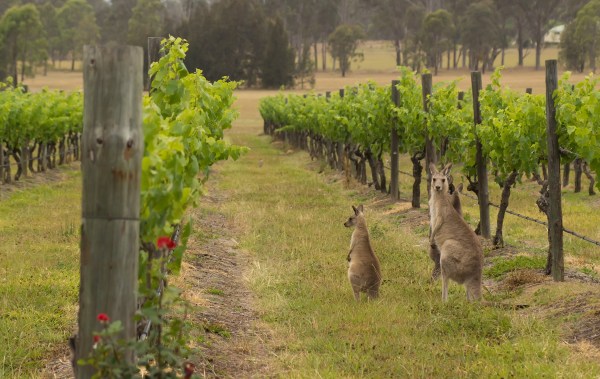 "This doesn't taste like an Australian wine," I say to Nick Spencer, winemaker at Eden Road in Australia's Canberra district. I mean it as a compliment. I'm drinking Spencer's 2010 "The Long Road" Shiraz and the wine's aromatic complexity, and earthy, savory flavors more closely resemble a Syrah (same grape) from France's Rhône Valley. — Kristen Bieler
Mr. Spencer sighs-slash-bristles. "I wish tasting 'Australian' wasn't something to avoid." But he is used to backhanded compliments like mine. Stereotypes develop for a reason, and in this case, Americans associate Australia with jammy, high-alcohol fruit bombs because, for years, that's what was produced. On the lower end of the price-point spectrum, critter labels dominated (alas, Yellow Tail still reigns supreme) and the high end was a sea of high-scoring and expensive Shiraz bottlings that were all flash and very little substance or finesse.
I'm happy to report that a new era has dawned for Australia. The number of delicious Aussie wines I've tasted in the last six months has made me a believer.
For those who still swear Australian wines aren't for them, here are two words: cool climate. Shiraz grows all over Australia, not just in the hot and sunny Barossa Valley, the region that made the supercharged style famous. Dozens of producers in cooler, high-altitude sub-regions are crafting elegant, balanced, terroir-driven Shiraz.
Look for wines from Coonawarra, Eden Valley, Margaret River and Clare Valley. At a recent tasting, there were a surprising number of exquisite Rieslings and Pinot Noirs from the island of Tasmania.
I'm convinced any Rhône wine lover would adore some of these Australian discoveries.
"Our high-altitude vineyards get excellent flavor intensity at lower alcohol levels," Mr. Spencer tells me. "Our wines are simply a reflection of where and how the fruit is grown; we couldn't make them like Barossa Shiraz even if we tried."
Oh, and there's one more reason to start drinking Australian wines again: The wines of the 2012 vintage, which are just rolling out now, are already being heralded as the vintage of the century.
New York-based Kristen Bieler has been writing about wine, spirits and food for more than 15 years. A senior editor at Beverage Media, she's also edited the Food & Wine Magazine Wine Guide for the past seven years. She is also a contributing writer for Grape Collective, an online wine magazine.