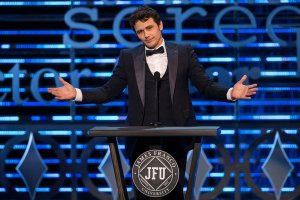 Last night, the Comedy Central Roasts series finally trotted out James Franco for mauling—ironically the one guy you'd want to make cry, But this show was different. It was not like other roasts, as someone (Jeff Ross?) pointed out, mostly because there weren't a bunch of strangers making vicious fun of a celebrity on stage together. Instead, Mr. Franco's roast looked more like a party from This Is the End, which I have heard is a movie that begins with a party at James Franco's house with all of his friends "dogging" each other.
That is certainly what last night was all about! And it genuinely made for a better roast, in our opinion, because it wasn't just  Lisa Lampanelli and Mr. Ross venting their life grievances on whoever is unfortunate to be on stage with them. It was more like bro-time, with the Judd Apatow bros! (In fact, there were only two women: Sarah Silverman and Natasha Leggero.) James Franco didn't really get roasted, unless in the sense that the president gets "roasted" at the White House Correspondent's Dinner, where all the jokes serve to reinforce the personality and ideals of the roastee. Ha, ha, you are into "hope and freedom, Mr. President!" Like that, except it was about art and being gay.
There were definitely some major themes of the evening, and you can probably imagine what they were if you've ever seen a movie with Seth Rogen, Jonah Hill and James Franco together (or separately, but it's a comedy and not Moneyball).
Aziz Ansari summed it up, which wasn't that hard because there was literally a montage of Franco sucking a bunch of different dicks at one point.
Andy Samberg and Bill Hader both went "conceptual," with Bill Hader as "Mr. Hollywood" and Mr. Samberg as "someone whose existential crises prevent him from understanding what a roast is." Seriously, it was glorious.

Even though James Franco is obviously the most elitist of his group of friends, for some reason Jonah Hill was the sacrificial lamb, apparently because he dared to also get an Academy Award nomination once.
Ansari got it pretty rough too, because he's not a white Jewish guy.
What was really different about the Franco roast was that, since it was filled with sycophants and buddies who had all prepped for the type of traditional Jeff Ross-style roasting, by the time Ross actually got on stage, he just looked mean and not totally with it.
So in conclusion, James Franco is too handsome, too metrosexual and too artistic and has too many degrees. Burn!
We can't wait for the Lena Dunham roast, where she just spends 40 minutes making fun of herself.