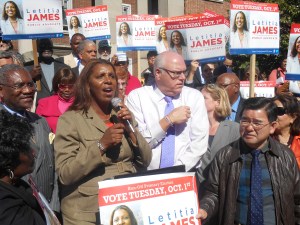 When the Queens Democratic Party announced it would be endorsing Councilwoman Tish James in the runoff election for public advocate, the crowd suddenly got much smaller. 
After a mass of Queens elected officials gathered on the steps of Queens Borough Hall this afternoon to endorse Bill de Blasio for mayor, Michael Reich, the party's executive secretary, revealed that Ms. James would also be receiving the organization's nod.
But some of the pols present–including several who had already declared their support for Ms. James's opponent, State Senator Daniel Squadron–said they had no idea the party planned to endorse Ms. James as well, and quickly bolted from the steps before the second press conference began.
Among those who left were State Senators Joe Addabbo, Toby Stavisky and Michael Gianaris, and Assembly Members Nily Rozic and Phil Goldfeder.
The exodus provided clear evidence that the famously-unified county's endorsement might not be quite as potent as Ms. James may have hoped.
"Several district leaders told me they had no advance notice," groused one Squadron supporter close to the county organization. "It was just Mike Reich going, 'No one leave we have something else to do!' And then when they realized what it was they took off."
A second Queens Democratic source concurred with the account, insisting that elected officials were given no advance notice about the James endorsement. The party's chair, Congressman Joe Crowley, hinted that a special announcement would come after Mr. de Blasio's endorsement, but otherwise gave no public indication of what was planned following the initial event.
Mr. Crowley did not immediately respond to a request for comment.
Still, the event went on as planned, and Ms. James received the party's formal backing surrounded by a slew of sign-wielding endorsers, including many from predominately black southeast Queens. Ms. James said she was grateful to have the support of the organization, which had endorsed Girls Who Code founder Reshma Saujani, the third-place finisher, in the first phase of the primary.
"It's a diverse county for a diverse slate in a diverse city–that's really what this is all about," Ms. James told reporters. "I have a history of accomplishments and we will move this city in a new direction, representing everyone at the table in the City of New York."
Ms. James has already received endorsements from the Bronx, Brooklyn and Staten Island Democratic Parties.