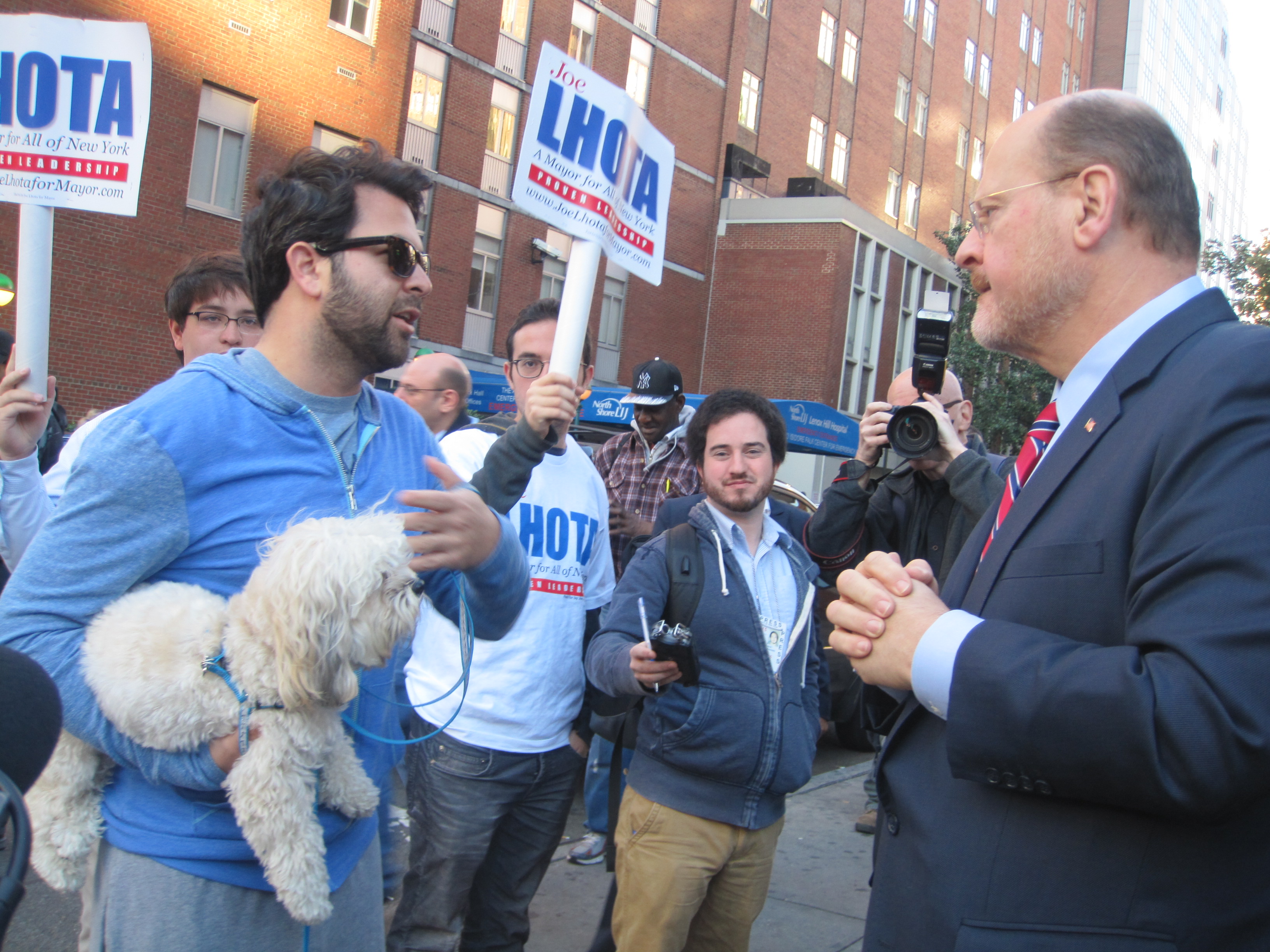 Republican mayoral candidate Joe Lhota brushed off brutal early polling numbers that show him badly trailing Bill de Blasio as he campaigned this morning on the Upper East Side.
After an hour of glad-handing, fist pumping, high-fiving little kids–and even a paw shake–Mr. Lhota told reporters that he's unfazed by the first poll of the general election, which gave him just 22 percent support to Mr. de Blasio's 65 percent.
"Look, I have always known right from the beginning that I was going to be the underdog," the former deputy mayor said outside the 77th Street/Lexington Avenue subway station, rejecting the notion that the gulf was too wide to bridge. "Nothing's insurmountable … you'll see my numbers rise. I have no doubt about it."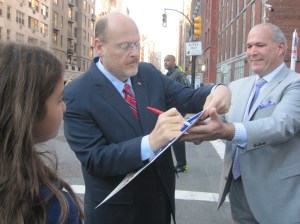 Mr. Lhota, who was joined by Manhattan Republican Chair Dan Isaacs, also brushed off unusually high negatives following a brutal primary fight against John Catsimatidis–whom Mr. Isaacs had originally endorsed. 41 percent of registered voters said they viewed Mr. Lhota unfavorably in the poll.
"I'll do everything I can to flip their opinion of me and who I am," he vowed. "Most of them don't know who I am and that's even more significant. I've gotta go out there, get my name out there, get my history out there … And I know it'll resonate."
Midway through the scrum with reporters, however, Mr. Lhota was interrupted by a loud voice shouting from above: "No more Republican slave masters! Go home you assholes!" said the voice, leaving Mr. Lhota momentarily flustered.
But otherwise, Mr. Lhota's reception was overwhelming positive, and he appeared far more comfortable on the stump than during his early days campaigning, when he often stood awkwardly, cracking jokes to his staff instead of engaging with voters.
"You've got my vote," commuters told him as they rushed past.
"Lhota!" a woman shouted excitedly from her car.
"I'm a Democrat. I hope you win!" said Kristen Smyth, 48, who lives in the neighborhood and explained that she'd had a long history of voting for Republican mayors.
"Local politics for me has never been party-based," Ms. Smyth told Politicker, adding that while she was concerned by yesterday's poll numbers, there was still plenty of time for the tables to turn before the November election.
Republican Tanya Gartenberg, who sent her 10-year-old daughter, Tori, to get Mr. Lhota's autograph, said she's been a fan of the candidate since "day one" and offered pointed criticism of Mr. de Blasio.
"I think he's wrong for the city. And I think the problem is that the generation that's voting for him now doesn't remember what the city used to be like," she said, explaining that when she was growing up, her mother wouldn't let her walk down Park Avenue and a friend's father was killed in a mugging by the Metropolitan Museum of Art.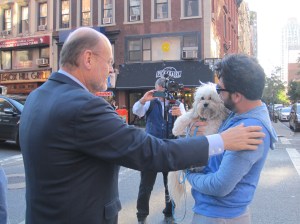 But even on the Upper East Side, there were loyal de Blasio fans to be found.
Seth Ginsberg, 32, approached Mr. Lhota with a little white dog named "Little Dude." "Joe Lhota, would you stop the subways if this puppy fell into the tracks?" he asked–a reference to Mr. Lhota's much-maligned statement that he wouldn't have stopped train service to protect two stray kittens that recently wandered onto the tracks.
Mr. Ginsberg–who described himself as a "big de Blasio fan"–went on to criticize Mr. Lhota for campaigning outside a "fancy" subway stop in Manhattan when "the outer borough subways are neglected 'cause no one cares about them … A subway chief like you could help out the outer boroughs people."
Asked about Mr. Lhota's work at the MTA, Mr. Ginsberg said the former chair had "demonstrated competency" when he restored subway service after Hurricane Sandy but said he expected far more in a mayor. "This isn't Germany," he said. "We don't vote for someone 'cause they keep the trains on time."
Still, Mr. Lhota offered his best wishes, shaking Little Dude's paw before the pair departed.