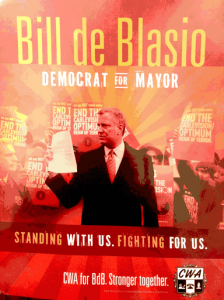 Sorry Bill de Blasio, Joe Lhota is not your comrade.
Asked to respond to today's front-page New York Times story looking into Mr. de Blasio's past support for revolutionary Nicaraguan politics, Mr. Lhota called his Democratic opponent's philosophy "unfortunate" and used it to draw contrast with his own beliefs.
"We do have very, very different political philosophies, especially, you know, in light of what my views are as to how our economy works, how he believes our economy works," Mr. Lhota told reporters after a press conference denouncing Iran, across the street from the United Nations. "It's pretty obvious we think very, very differently about the way the governments of the world should work and the way the people should interact with their government."
Mr. Lhota went on to quote Mr. de Blasio's own past description of his views, which reportedly included telling his fellow Sandinista activists that he supported a "democratic socialism" vision for society.
"Quite honestly, there are words that I don't like to use, but his own words–in his own words–he called himself a Democratic socialist. It's really unfortunate that that's the level that we've come to in this city," Mr. Lhota said, promoting a reporter to ask whether he thought Mr. de Blasio was "anti-capitalist."
"Ten days ago in the Wall Street Journal, he actually said he thought the mayor of the City of New York needs to be a community organizer. You know, he's done nothing to show his support of the business community of New York whatsoever. And I think that's indicative of his core political philosophy," he said.
In addition to raising questions about his views, Mr. Lhota also specifically criticized Mr. de Blasio's decision to honeymoon in Cuba.
"I believe actions taken like the Sandinistas who were fighting Americans as well as capitalism was absolutely not the right thing to do during the Cold War," he said. "You know, going to Cuba illegally is never a good thing in this country."
The two rivals were both scheduled to speak at the widely attended press conference, but managed to avoid any direct contact–with Mr. de Blasio slipping in just as Mr. Lhota was speaking to the press.
Politicker attempted to get a response from Mr. de Blasio, but the candidate refused to answer questions as he was trailed by a gaggle of reporters, photographers and cameras crews down the block to Second Avenue, where he his black SUV was waiting.
You can watch the chase, via blogger Jacob Kornbluh, here:
[youtube=http://www.youtube.com/watch?v=W14zLnesC5U&w=420&h=315]