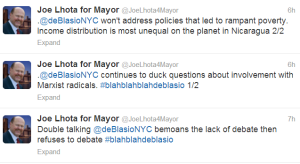 Republican mayoral candidate Joe Lhota is not only increasingly tearing into his Democratic opponent on the campaign trail, he's taking the brawl online.
Mr. Lhota's campaign once used its official Twitter account to calmly tout Mr. Lhota's accomplishments–rarely even mentioning Bill de Blasio by name. But in recent days, it has been rapidly ratcheting up its attacks.
Mr. Lhota's campaign unveiled the "#blahblahblahdeblasio" hashtag last Friday, as he tried to pressure Mr. de Blasio to debate with him in all five boroughs. Since then, the team has been flooding its feed with dozens of negative tweets aimed to puncture holes through Mr. de Blasio's campaign.
"If de Blasio's campaign were a movie, it would be called Say Anything #blahblahblahdeblasio," they quipped.
Yesterday, Mr. Lhota's campaign was in full attack mode, accusing Mr. de Blasio of continuing "to duck questions about involvement with Marxist radicals" and once welcoming Robert Mugabe "with open arms," in addition to promoting links to critical stories about the Democrat. (Mr. Lhota's personal Twitter account has been much more positive.)
The social media bombardment comes as Mr. Lhota has dialed up his overall rhetoric as he tries to gain traction in a city where Democrats outnumber Republicans 6-1. Mr. Lhota recently suggested, for instance, that the Democrat has "no soul," and prominently accused Mr. de Blasio of dealing strategies "directly out of the Marxist playbook"–which Mr. de Blasio dismissed as "silly."
To date, Mr. Lhota's social media missives have been ignored by Mr. de Blasio's campaign, which has limited its own Twitter activity to touting numerous endorsements, promoting campaign media and slick rallying calls like: "Hey, young progressives! It's time to mobilize and fight for your candidate."
Of course, this strategy makes sense, given Mr. de Blasio's dominating position in the race. With the latest poll showing the Democrat leading by more than 40 points, Mr. Lhota needs to drag Mr. de Blasio in every way possible, observers say.
Update (2:11 p.m): Mr. Lhota's spokeswoman said via email that the campaign puts "a lot of different things on twitter, including fun things like calling on New Yorkers to elect another bearded mayor. But as we're learning more about Mr. de Blasio's radical philosophies we will continue highlighting the important differences between the candidates," she said.