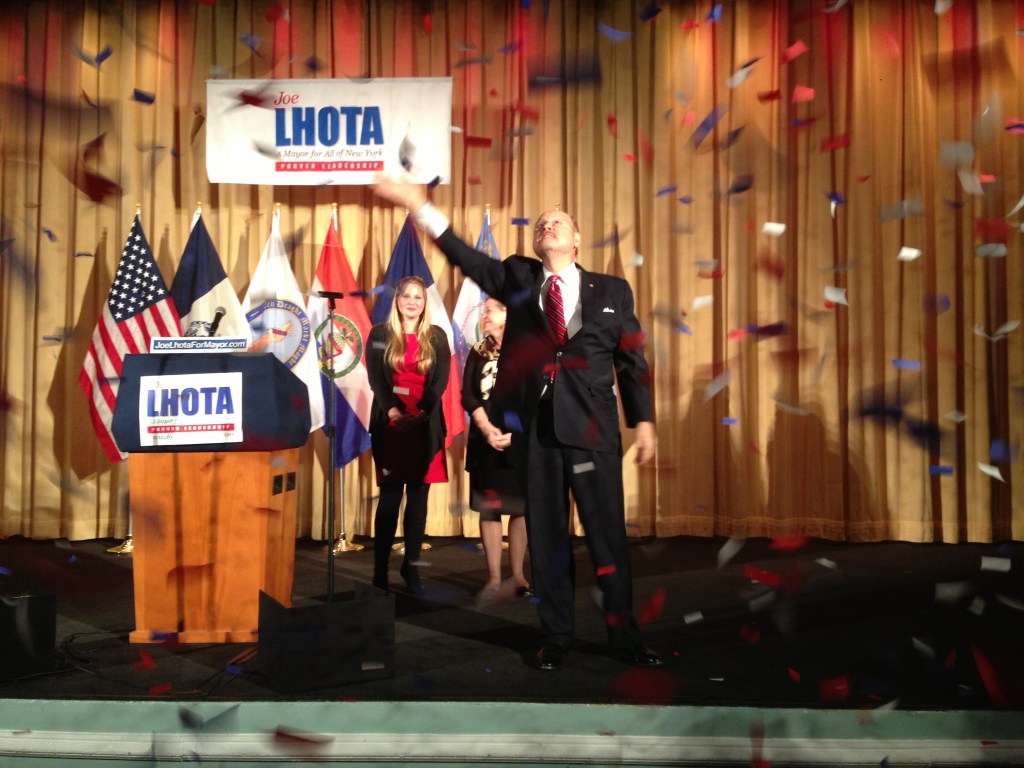 Former deputy mayor and MTA Chair Joe Lhota decisively beat back his billionaire opponent tonight in the Republican mayoral primary, despite the onslaught of millions of dollars worth of negative mailings and television ads.
Though he'd called John Catsimatidis's ads "amazingly disgusting" earlier today and seemed to have little patience for another challenger, Doe Fund founder George McDonald, Mr. Lhota offer an olive branch to both of his opponents in a victory speech delivered to cheering supporters at a Midtown hotel.
"It is time to unify our party, strengthen it and prepare it for victory in November," he told the crowd "I would like John Catsimatidis and George McDonald to stand with me to help unify our party. John is a good man and a solid New Yorker. He and I agree more than we disagree, George is a great guy and a visionary leader. We've become true friends during this primary process."
With his eye on the November election, Mr. Lhota quickly turned to attack his likely Democratic opponent, Public Advocate Bill de Blasio, who also scored a solid victory tonight but still faces a possible runoff, depending on the final vote count.
"I'm hearing an awful lot coming from the other side about a tale of two cities and how they want to tear down the progress that's happened over the last twenty years," Mr. Lhota said, mocking a de Blasio campaign slogan in a preview of the brawl to come. "This tale is nothing more than class warfare, an attempt to divide our city. It's a feeble retreat to the old playbook that promises a perfect world but delivers only special interest-dominated politics. It's this kind of thinking that brought our city to the brink of bankruptcy and rampant civic decay."
"I'm not going to let the other side divide out city," he declared to cries of "Let's go, Joe!"
Mr. Lhota also ominously warned against those who would curtail the NYPD's controversial stop-and-frisk tactic, arguing that it would undermine the police force and lead the city back to the high crime levels seen before his former boss, Rudy Giuliani, took over City Hall.
"Let me be very clear about something: Handcuffing and demoralizing our police officers will have catastrophic consequences. I will support the NYPD and believe that stop, question and frisk must continue," he said. "This election is not about Democrats or Republicans. It has to do with who has the experience to lead this city in good times and bad."
Mr. Lhota faces long odds in November in a city where Democrats outnumber Republicans 6-1, but addressed the challenge head-on.
"We have a proud tradition in this city of electing strong and independent mayors regardless of party affiliation," said Mr. Lhota. "I am the only candidate who will be ready on Day One."