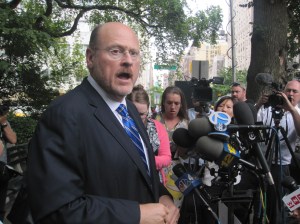 Republican mayoral hopeful Joe Lhota wants to stop non-New Yorkers from hogging the city's shelter beds.
The former deputy mayor and MTA chair said that, if elected, he wants to overhaul the city's homeless shelter system, calling for an amendment to the state's constitution, which currently requires the city and state to provide shelter to anyone in need regardless of previous residency.
While critics have long said the numbers are exaggerated, the Department of Homeless Services reported back in March that the percentage of adults applying to shelters who listed their last home address as outside of the city had risen to 23 percent as of last December, according to the New York Times.
"We're becoming a magnet city. People know that all around the country: Come to New York, you'll get into a shelter and after the shelter you'll get housing," said Mr. Lhota during a tele-town hall with supporters last week. "We need to fix that law. We need to fix the Constitution and change that. It's not fair. We should give priority to new Yorkers and not out-of-towners that come to New York and are bloating the numbers of our homeless."
Mr. Lhota went on to acknowledged just how bad the homeless situation has become.
"You know, homelessness right now, believe it or not, is at the highest level it's ever been in the City of New York. What's different now is that the City of New York is spending a fortune in housing the homeless and so we don't see them in the streets as frequently as we used to and don't have the oppressive panhandling that we're used to," Mr. Lhota said. He argued that–in addition to providing social services for drug and alcohol abuse and mental health problems–the best thing the city could do to help the situation is to create new jobs.
"The most important thing that I can do is expand the economy of New York so there are jobs for people," he said. "I think a job is the best social program that there is."
Mr. Lhota's comments drew criticism among some homeless advocates, including Mary Brosnahan, the president and CEO of Coalition for the Homeless, who said that his approach would only make the problem worse.
"Lhota's plan appears to be little more than doubling down on the failed policies of the Bloomberg administration that brought us a record 50,000 homeless New Yorkers," she said in a statement. "Throwing up our hands and saying 'go find a minimum wage job' is exactly how we ended up with over 21,000 homeless children in shelters each night – and his proposal to restrict access to the shelter system will mean even more vulnerable homeless people on our streets."
"What seems lost on Bloomberg and Lhota is that for poor people living in NYC, these are still the bad old days," she added.
A spokesman for Mr. Lhota's Democratic rival, Bill de Blasio, who has run his campaign vowing to turn the page on the Bloomberg administration, declined to comment on Mr. Lhota's call. But Mr. de Blasio's policy book makes clear that he would take a very different approach to the problem, with a vow to "Face Down the Homelessness Crisis" by developing a new housing support program for families at risk of losing their homes and creating a new voucher system to help people leave shelters by subsidizing private rents.
"No family should get caught in bureaucratic red tape while  trying to access a shelter when they lack alternative housing options," reads the book, which goes on to describe the more than 50,000 New Yorkers sleeping in shelters as "a stain on a city that boasts so much wealth."
Mayor Michael Bloomberg has long railed against the must-house rule, raising eyebrows when he recently complained that out-of-towners could arrive on their "private jet at Kennedy Airport, take a private limousine and go straight to the shelter system, and walk in the door and we've got to give you shelter"