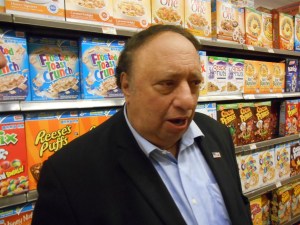 Former MTA Chair Joe Lhota has led each and every poll surveying the mayoral race's GOP primary. Yet late Friday night, rival John Catsimatidis called on Mr. Lhota to "end this charade [and] drop out of the race now."
Needless to say, Mr. Lhota did not heed Mr. Catsimatidis's call, which was prompted by a modest fund-raising filing. But Mr. Catsimatidis, a billionaire who is self-financing his campaign, still repeated his call today.
"The whole thing is, with $157,000 for the whole month of August, where the hell are you going? Where are you going?" Mr. Catsimatidis pressed when asked about the remarks while greeting voters at a kosher supermarket in Brooklyn, which was buzzing with shoppers preparing for Rosh Hashana. "If he beats me, where is he going? What happens is he turns over the entire city to the Democrats because he doesn't have a chance in hell in November."
Politicker asked Mr. Catsimatidis whether he really thought Mr. Lhota would bow out of the race.
"I just want what's right for our city and there is a big difference between me and de Blasio. I'm not going to even talk about Joe because Joe can't win," Mr. Catsimatidis replied, setting his sights on the Democratic front-runner, Public Advocate Bill de Blasio.
Mr. Catsimatidis had originally said there would be "no limit" to the amount of money he would be willing to spend against the eventual Democratic nominee in the general election, but today said that, unlike Mayor Michael Bloomberg, he would cap his campaign spending at $19 million.
Later, outside the supermarket, Mr. Catsimatidis clutched onto Politicker and another reporter as he expounded on what he thought was the chief difference between himself and Mr. Lhota.
"People love me. I love people. This is the difference between me and Joe. I go up to people and I hug them because that's who I am. I think Joe is uncomfortable with people," he said.
Update (9:20 p.m):  Reached for comment, Lhota spokeswoman Jessica Proud dismissed Mr. Catsimatidis's criticism.
"Desperate candidates say desperate things," said Ms. Proud. "John is spending his billions with no effect and he is running a classless campaign of personal attacks and mistruths. Voters are smart and he will soon learn you can't buy elections."