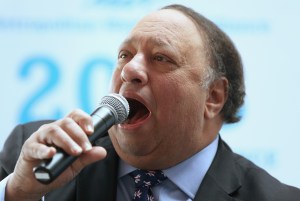 During the final Republican debate before Tuesday's mayoral primary, billionaire businessman John Catsimatidis touted his advantages over rival Joe Lhota.
Among the attributes cited, Mr. Catsimatidis said he would be more likely to win the general election because of his appeal to black and Latino voters–or in his words, "the minorities."
"All the minorities I've been to in the last three months, they love me!" Mr. Catsimatidis declared.
"I have a love factor with the minorities," he added. "I've been to every minority neighborhood, they all give me hugs."
The remark drew some criticism on Twitter.
"Dear Republican friends," political consultant L. Joy Williams wrote. "please do not vote for Catsimatidis. I will show up at your house and I won't be giving hugs."