When Hamptons magazine announced it was hosting a soirée in honor of its "U.S. Open & Hampton Classic" issue, Shindigger decided a trip to Southampton—replete with free booze and some lively tennis talk—would fit right into our schedule. We arrived to find leggy model-waitresses, festooned in ushankas, marching around the pool of the The Bathing Club at Capri. They were also toting Russian vodka potions, which we grabbed as quickly as possible, avoiding eye contact with the unfortunate ensembles.
Looking considerably more tasteful, in a tangerine one-shoulder cocktail dress, was a pregnant Georgina Bloomberg, who graces the magazine's cover alongside another young equestrian professional, Brianne Goutal.
"Who are you rooting for at The Hampton Classic?" we inquired in jest.
"Myself," she responded, happy to play along.
Just as memories of a recent equine allergy debacle began to surface, we scooped up a vodka refill and changed the subject toward the tennis tournament in Queens, which Ms. Bloomberg was happy to discuss.
"I'm looking forward to attending the final, which usually my schedule doesn't allow for," she confided.
And for whom would she be rooting in an event in which she wasn't competing, we wondered?
"I always root for Roger Federer and Serena Williams," she said. "I think Federer really represents what an athlete should strive to be—well-behaved, classy and professional." As for the ladies' draw, "Serena is such an amazing role model for women," Ms. Bloomberg continued. "She isn't afraid to show her strength and power and never holds back from expressing herself. Both players are pretty opposite, but I think they both represent how each sex should behave."
Clearly, Ms. Bloomberg knows her ABCs when it comes to the ATP and WTA. To test her true passion for the sport, we asked about her favorite surface.
"I like a hard court, either synthetic or acrylic," she shot back, quicker than a Serena forehand.
Moving on to more important topics, we asked the heiress what she would be wearing to Arthur Ashe Stadium, noting her well-hidden baby bump.
"Something loose!" she cried.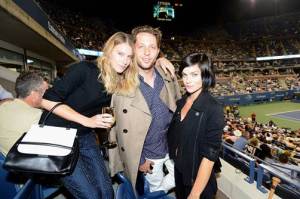 A few nights later, Champagne flowed freely at Chelsea Piers, as Moët & Chandon threw a massive 270th anniversary bash with its global brand ambassador, none other than the former world No. 1, Mr. Federer.
The tennis star's luster suffered an upset challenge from Vogue Editor in Chief Anna Wintour, who arrived by helicopter along with her son, Charlie Shaffer, and a gaggle of nieces. Swooned by the Swiss champion, Ms. Wintour looked (I swear, dear reader, this wasn't the Moët talking) downright cheery.
"It's good to see you," Shindigger overheard her coo to Mr. Federer. They double-kissed on the red carpet, as we waited our turn to talk to Fed.
"It's exciting to celebrate 270 years," the brand ambassador soon explained, begging the question of how Ms. Wintour would have arrived in 1743. Via muddy horse-and-buggy? But we bit our tongue, despite being three goblets in, and asked instead how Mr. Federer was feeling about the Open.
"One thing's for sure," he smiled. "I'll give everything I have. I'm excited to be back in New York, and I hope it is going to be a good trip for me."
Shindigger hoisted a glass to his health, while someone nearby questioned Mr. Federer's seemingly bigger focus on family. Would it affect his game?
"I've had enough vacation this year," he said. "I need to make sure I practice and get back to the old form again." (Unfortunately, the former champ suffered an upset in the round of 16.)
As the party roared on, Shindigger took it all in. The bigwigs at Moët had managed to fly in deejay Bob Sinclair from Paris; 30 Rock's Katrina Bowden mingled in the proximity of Tyson Beckford; Josh Lucas ran around freely, apparently unable to withstand the confinements of a velvet rope; and models such as Carol Alt, Kelly Killoren Bensimon and Andrej Pejic pouted and posed in the VIP sections, while British pop sensation Emeli Sandé belted out a lively rendition of "Next To Me."
At some point, a car was apparently summoned, and Shindigger escaped further debauchery, but the city's tennis obsession could not be contained.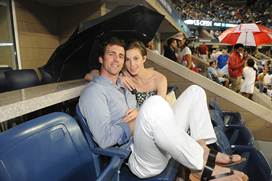 Interior designer about town Darren Henault told us he'd be playing at the Millbrook Golf & Tennis Club, while Julie Macklowe, who recently hosted "A Midsummer Night's Cocktail" at her sprawling residence in Sagaponack, said she plans to make it out to Queens on Thursday. "I seriously have no idea who I am supporting," she admitted. "But I like to root for the person who seems like they will win right before it starts."
Power publicist Deborah Hughes would sadly be unable to attend any matches due to Fashion Week responsibilities—"Bitter?" she griped. "Not much!"—while Ann Dexter-Jones was cursing her own laziness.
"I stupidly procrastinate until the very last minute and realize I have been meaning to get tickets but forgot to actually buy them!" she chirped.
Meanwhile, our friend Jenni Konner, about to wrap filming on season three of HBO's Girls, had a different take on all the madness in Flushing Meadows. "I only know it's the U.S. Open when my Twitter feed stops making sense," she said.