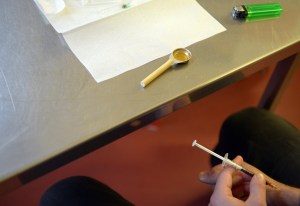 Tardiness, misconduct, photo-taking — there are many things that can lead to getting fired.
According to one Manhattan Supreme Court judge, being busted with 20 bags of heroin isn't one.
Justice Manuel Mendez has overturned the Department of Education's decision to fire teacher Damian Esteban after he was caught with the drug when he reported for jury duty last October.
The stash was hidden in a cigarette packet. Those hearings can be drawn out, but come on.
Justice Mendez said Mr. Esteban's firing from Williamsburg High School for Architecture and Design was  "excessive and shocking" as there was "no evidence that the conduct with which [Mr. Esteban] was charged affects his performance as a teacher."
On the contrary, his classes were probably extremely informative.
The judge deemed suspension without pay to be "a more appropriate penalty."
A charge of misdemeanor drug possession against Mr. Esteban was dropped six months ago on the condition he attend a substance abuse program. Seriously, this guy should have bought a Powerball ticket.
The Global Studies teacher, apparently unable to access Advil, claimed he used heroin to help deal with a sore ankle. He said he is now clean.
Mayor Michael Bloomberg said he "could not disagree more strongly with the judge's decision."
City Law Department head Michael Cardoza also condemned the controversial verdict. "We strongly disagree with the court and believe that it misapplied the law … We cannot fathom how a teacher who took 20 bags of heroin into a courthouse is fit to stand in front of a classroom and teach the City's schoolchildren," he said.