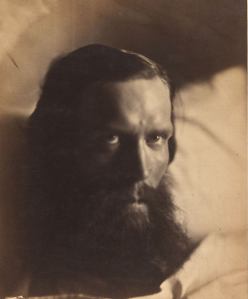 Thirty-eight blurry, beautiful photographs star in the  Met's tiny, jewel-like Julia Margaret Cameron exhibition. Born before photography was invented, Cameron was a latecomer to a new art form—her daughter and son-in-law gave her a camera when she was 48. "It may amuse you, Mother, to try to photograph," they wrote. She knew nothing about art or photography and erased her first photograph accidentally by rubbing her hand on the glass plate that held the image. But she quickly grew to love the medium. She turned her hen house into a photography studio. Surrounded by her six children, as well as nieces, nephews, neighbors and grandchildren, she produced some of the best portraits in the history of photography.
Cameron's style is ethereal. Children would laugh and, moving, spoil the long exposures. She used a short-focus lens to capture details, but it put the rest of the image in a haze. In Julia Jackson (1867), the young woman is half-lit, and her long hair floats around her face in a gleaming cloud. Sometimes the glass plate negatives Cameron printed from are cracked, and sometimes her thumbprints are visible on the paper prints in the show. But the appeal of her work is beyond such technical fuss. The haloing effects actually make her subjects more believable—family members enacting staged tableaus dressed as mythological or literary characters (Cassiopeia, wood nymphs, King Lear), improbably become their subjects.
Cameron captured her subjects' considerable charisma. Alfred Tennyson was her neighbor, and he and his son often figure in the images—some of the only extant photographers of the poet. Cameron requested that his long hair remain uncombed and wayward, and she draped him in a heavy wool robe. Although she called the resulting picture Alfred, Lord Tennyson (1865), he jokingly dubbed it "The Dirty Monk." Other subjects, like Alice Liddell, Lewis Carroll's inspiration for the Alice in Wonderland series and onetime photographic model, is a famous muse—in Cameron's photograph, she is no longer a young child but a woman of 20 dressed as fertility goddess Pomona. Julia Jackson, Cameron's niece, is now better known as the mother of Virginia Woolf.
It's just this bohemian and feminist milieu that Cameron's romantic images evoke most strongly in the Met exhibition. Cameron was born in India in 1815, one of 10 children. She was raised—and, as an adult, lived—between London, Versailles, Calcutta and Ceylon. (The same Indian Paisley-trimmed shawl appears in several images, evoking this heritage). Her context is eccentric, and her art is, too. The Met's show, organized by photography curator Malcolm Daniel, is the first solo show of her work at the museum.  For New Yorkers today, Cameron's work manages to picture that still most elusive of arrangements—a happy marriage of motherhood and work. (Through Jan. 5, 2014)