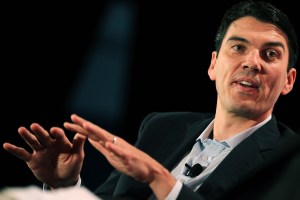 This summer has been a rough one in media, following on the heels of a rough spring, winter and fall. Every week seemed to bring news of yet another round of layoffs, yet another publication crumbling and shedding staff.
Getting laid off is like getting broken up with: It doesn't really matter how it happens. There's a reason that Jerry Seinfeld advised George Costanza that a breakup needs to be like taking off a Band-Aid. ("One motion—right off!")
There's really no good way to do it. Whether it's a surprise attack or a looming threat, the rest of the media industry ends up talking about the heartless method that the company used, when it's the terminations themselves that are the real cause of pain. 
When AOL's CEO Tim Armstrong announced on a Wednesday in mid-August that he was going to lay off between 300 and 500 staffers two days later, the consensus was that it was cruel to let the anticipation and anxiety build.
It would be a week before Patch employees found out who would stay and who would leave. Following a massive conference call with around 1,000 people (although a camera-wielding creative director was abruptly fired after Mr. Armstrong lashed out during the call, a rash move for which the CEO later apologized), the employees were sorted into two rooms based on their employment fate and then informed of their status.
"Did AOL handle the Patch layoffs correctly?" Suzanne Lucas, a veteran of corporate H.R., wondered in a post for CBS's MoneyWatch. Ideally, according to Ms. Lucas, the manager, in person, should conduct layoffs. But in the case of Patch, too many people were let go, making group terminations appropriate.
"When multiple people are being laid off at once, you want to make sure the notifications, from start to finish, take as little time as possible, preferably less than an hour. And then, when it's done, remaining employees are informed about what happened and told that the process is over (or if it's not, give them a general time line). No one should be sitting at his or her desk for hours wondering when the grim reaper will appear," she wrote.
Is there really a better way? Here is a review of the methods used in media layoffs over the past year, with relative pain ratings from 0 (finding the employee another job at a better company—sorry, there were none of those examples) to 5 (stopping paychecks but not telling anyone—which also didn't happen).
The Post-it Note
Recently Used: The New York Post 
As Carrie Bradshaw's boyfriend found out, breaking up via Post-it note isn't a great move (admit it, we have all seen that episode). In the modern era, the Post-it would invariably be a tweet or Facebook status change and is analogous to finding out about a layoff though social media or over email.
In mid-August, tabloid legend V.A. Musetto was notified via email that his freelance gig at The New York Post was over. Mr. Musetto, who wrote the famous 1983 Post headline "Headless body in topless bar," had been at the tabloid for 40 years. Two years ago, he left the newsroom but continued to write freelance movie reviews.
"Dear Vincent, I'm sorry, but because of budget cutbacks we cannot give you any further reviewing assignments," film editor Lou Lumenick wrote to Mr. Musetto in an email first obtained by Capital. "Your review of The Grandmaster next week is your final assignment."
Mr. Musetto forwarded the offending email to the Post newsroom, adding (for extra poignancy), "After 40 years at Post, during which I wrote 'Headless Body in Topless Bar,' it has come to this."
After the news was widely, and incredulously, reported, Mr. Musetto did get an apology from the Post. "Lumenick hates me, and I don't especially like him," Mr. Musetto told Mediabistro. "We don't get along. We never talked. After 40 years to have some flunky just send me an email. But I did get a call from the woman in charge of entertainment, who apologized for just sending an email."
Pain Rating: 
One for each decade that Mr. Musetto spent at the Post.
Dial U for Unemployed
Recently Used: The Plain Dealer
In July, employees of The Plain Dealer in Cleveland were told to wait by the phone between the hours of 8 a.m. and 10 a.m. to find out if they still had a job to go to or whether, as The Plain Dealer called it, they were "separated from employment."
"The ax will fall on editorial at The Plain Dealer between 8 and 10 a.m. tomorrow," a staffer posted on Facebook. "We've been told to stay home and await a phone call about our fate. Please pray for me as I am praying for my Guild brothers and sisters."
The Plain Dealer laid off around 50 staffers—a third of an already sparse newsroom.
"The talented men and women the company let go with little thanks or acknowledgment have spent years, and in some cases decades, working to inform the residents of Northeast Ohio," the "Save The Plain Dealer" Facebook page explained. "Collectively, their loss eradicates hundreds of years of institutional knowledge and experience. The dismissals were unnecessary. They were driven by greed, fear and a disastrous inability on the part of the newspaper's senior management and billionaire owners to creatively respond to the challenges facing journalism in the digital age."
Pain Rating: 

Actual  layoff was almost a relief after all that anticipation, but the process was especially agita-inducing, and the "Save the Plain Dealer" Facebook page probably got more traffic than the newspaper.
Having the New Boyfriend Already Lined Up
Recently used: Hearst Digital
It can be especially rough when a new hiring announcement hits inboxes shortly after word and tweets leak out that some staffers have been "laid off."
This happened at Hearst this August when two top editors were let go and then the company promptly touted replacements.
On a Tuesday morning, Elle.com Editor Amina Akhtar tweeted news that she had been laid off and was now a "free agent." She was soon joined by Cosmopolitan.com Director Abby Gardner, who blithely tweeted that she was now free to take SoulCycle classes at 9:30 a.m.
Before the day was done, Hearst sent out a hiring announcement naming BuzzFeed Fashion Editor Amy Odell to the newly vacated position of editor of Cosmopolitan.com and Leah Chernikoff, the editorial director of Fashionista.com, as the new editor of Elle.com.
But the digital restructuring (and subsequent editorial reshuffling) didn't seem to be motivated by the quest for ever-elusive page views.
"Digital is a huge area of growth and investment for us, and we're having our most profitable year ever," Hearst President of Digital Media Troy Young said in the announcement. The company proceeded to proclaim big traffic gains for both women's titles. "In July, Cosmopolitan.com reached 12.2 million unique visitors—its best month ever. Elle.com reached 3.4 million unique visitors, up 26 percent versus last year," the email read.
Pain Rating: 

At least the laid-off employees got good press for helping Hearst have a great year traffic-wise (even if they didn't get to stick around).
We'll All Go Down Together
Recently Used: The Daily
The sneak attack never goes over well, but at least the employees are spared the stress of waiting. And like the end of a relationship, it is rarely a total surprise.
So it went at The Daily, News Corp.'s grand tablet-only experiment. After the news app had laid off a third of the staff last summer, remaining employees, deciding to (mostly) ignore the oldest dog in the room, kept on chugging along. Optimism for the future was low, but the moment was O.K.
But then, on an unseasonably warm Monday in early December, employees woke up to tweets, phone calls and Facebook posts alerting them that the time had come to an end. The Daily was closing before the year was over. Meetings were held later that day, and severance packages were doled out. Gloom and doom (and copious amounts of booze) replaced the already scheduled holiday party. But at least they had each other (except for Editor in Chief Jesse Angelo, who was promptly named publisher and CEO of The New York Post and a handful of others who found refuge elsewhere in News Corp.).
It's always easier on morale when a whole operation shuts down and a bunch of people are laid off together (if nothing else, that means that the newly laid-off don't have to drink alone at 2 p.m.). At least, when a publication closes, the staffers can commiserate, knowing that they all went down together.
Pain Rating: 

Severance always helps. So does alcohol and a newsroom full of people to drink with.