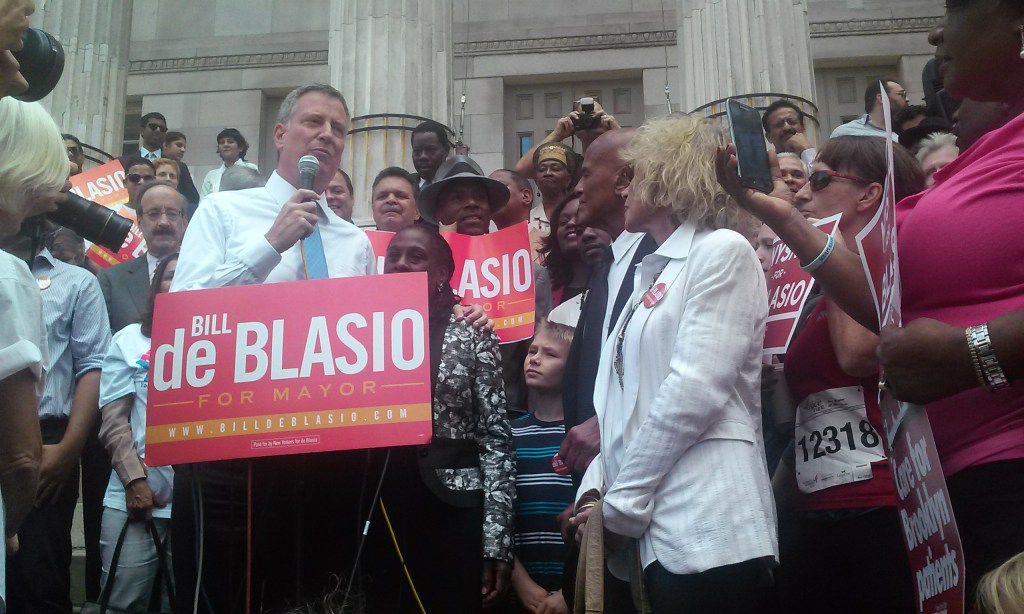 Far ahead in the polls as Tuesday's Democratic mayoral primary looms, Bill de Blasio amassed the troops today for a gigantic get-out-the-vote rally.
At times, it felt like a victory party for the city's public advocate, who once trailed his opponents but is now reveling in his new front-runner status.
"This campaign, like every good cause, started humbly and we worked really, really hard," Mr. de Blasio reflected, standing on the steps of Brooklyn Borough Hall. "I give people in this crowd a lot of credit. There were many days when the polls weren't so great, when you couldn't get our message across; we'd put out a press release, no one printed it. We've had those days."
"But when you believe in something, that doesn't stop you. That doesn't bother you. You just work harder. You just believe that when the message gets out there, people will feel it," he said.
And today, the crowd, which numbered in the hundreds and featuring union members, hospital advocates and a couple celebrities–including actresses Cynthia Nixon and Marisa Tomei–certainly seemed to. When prompted by the bullhorn-wielding emcee, they enthusiastically erupted into shouts of "Go! Go! Go! De-Blas-i-o!"
But there were some words of caution as speakers warned against complacency.
"Let's not get excited about the polls. Let's not get intoxicated about the polls. The polls don't mean a damn thing if we don't get out and vote!" shouted George Gresham, president of the healthcare workers' union 1199 SEIU. "I told my family, 'You may not see me until Tuesday because I'm willing to put every effort that I personally can to make sure that Bill de Blasio is the next mayor.' And we're asking you to do the same thing."
Ms. Nixon, a prominent de Blasio supporter since he launched his bid, further urged everyone present to expect a runoff, which will occur if Mr. de Blasio is unable to secure 40 percent of the vote.
"We've got to come out in droves on Tuesday, but it's not over on Tuesday, is it?" she asked, prompting the crowd to yell, "No!" "We're going to have to come out again, probably on October 1," she told them.
Perhaps reflecting the confidence of of the surging campaign, another surrogate, Congresswoman Yvette Clarke, promptly went a bit off message: "If we do the work that we need to do over the next 48 hours, I believe it's possible for Bill de Blasio and his message to resonate with across this city so that there won't be a runoff!"
In either case, Mr. de Blasio asked volunteers to go all-out, beginning right after his speech, when they were to break up into groups and canvass Brooklyn neighborhoods.
"All I ask you," he said to conclude his speech, "is go out there and get your Starbucks or your Redbull or whatever will keep you from having to sleep the next 48 hours and bring this home!"