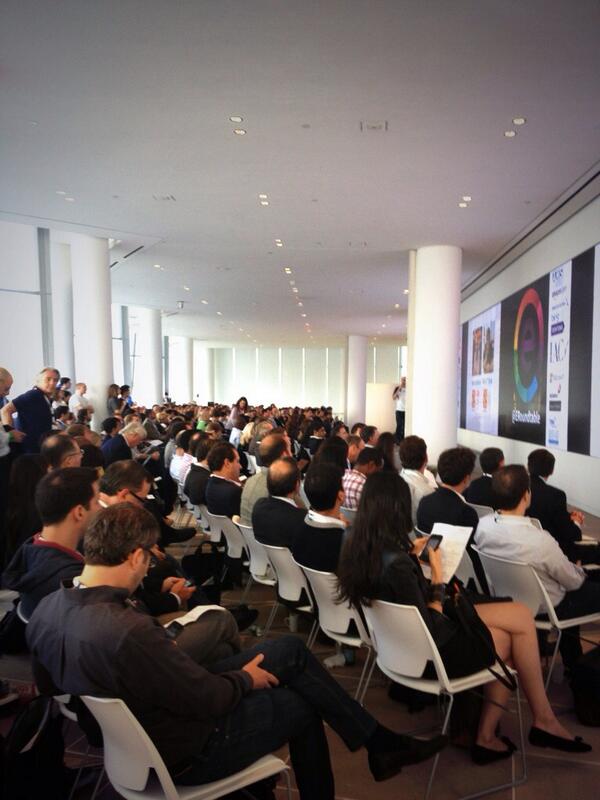 The latest class (number five!) of the Entrepreneurs Roundtable Accelerator demoed today, and Betabeat got a chance to sit down with a few of the newly minted graduates while they were still working. Here's what we learned:
Winning the prize for Most Likely to be Used By the Clotheshorses of Betabeat is ClosetDash. The founder used to work on Wall Street but organized clothing swaps in her spare time, which grew to the point she once helped 150 women swap a thousand pieces in two hours. Send in your old clothes and pay the $1 processing fee, and you'll get credits to spend on new-to-you acquisitions.
It was far from the only consumer-facing play, though. Metropolist is a big orgy of to-do lists, written by users and curated via votes from the community. (The plan is to make money through native advertising; think the best NYC bars to drink Captain Morgan rum.) Here are the best places to Captain Morgan rum in New York City!) Meanwhile, Agolo, founded by a couple of dudes working with Columbia's Institute of Data Science and Engineering, wants to use natural language processing to answer Qs on Twitter. Tweet @Agolo for the best pizza place in Greenwich Village, NY, and boom: recs.
Tapactive lets exercise fiends subscribe to a kind of "Netflix for workouts," where you pay a single monthly fee for unlimited sessions and classes. Gigzolo lets event planners and desperate brides alike browse and book musical acts.
Luckily, Admitted.ly–which provides guidance for high schoolers during the college application process–currently has absolutely no relevance to our lives. Students can sign up for a free account, plug in their info and take some personality tests and get suggestions for schools that might fit. Founded by a onetime private college admissions counselor and a PhD in personality psychology and psychometric testing, their approach is a bit more scientific than "Wanna pledge? Y/N." $99  gets you advice on how to hone your application.
Nutmeg Education is an assessment platform tailored to the Common Core, designed to help teachers track student performance and craft better tests.
The most fascinatingly niche startup we've met in a while, however, was Machinio, which is a search engine explicitly for buying and selling used industrial machinery. This is the kind of idea that you can't exactly partner with Uber to promo at Cannes, but it'll probably make great big piles of money.
Other enterprise ideas: Rockerbox, founded by early AppNexus employees, plans to "assess the real time intent of consumers based on their browsing patterns across the web. We enable advertisers to target users based on the momentum of their browsing." As long as it doesn't make it any easier for Modcloth to stalk us around the Internet, shoving dresses with owls on them in our face. Piiku (not to be confused with Pikachu) is a "premium video ad network for digital content paywalls."