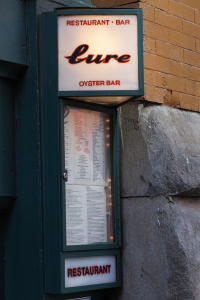 Lure Fishbar, the subterranean Soho restaurant where media elites sup side-by-side with Hollywood celebrities, will live to serve lobster tail another day. Lure, lodged beneath the Prada store on the corner of Mercer and Prince, has signed a new 10-year lease, as reported by Eater earlier today.
The seafood restaurant and oyster bar, owned by New York restaurant veteran John McDonald, has been struggling to negotiate a new lease with billionaire landlord Peter Brant since spring. Rumors of the massive rent hike prompted the restaurant's socially-prominent clientele to take to Twitter—"Soho will not be the same without that spot in that location!" tweeted media mogul Scott Lipps—and some even threatened to boycott of Brant's Interview magazine. At stake, many felt, was not simply a restaurant, but the soul of Soho itself. And perhaps, by extension, that of the entire city.
But now we can at last sigh in relief—or for the less easily calmed, head over to Lure's gleaming teakwood interior for a martini to calm the nerves. The Soho of artists and empty streets, grimy bars and funny little boutiques may be hopelessly lost, but at least there are still a few places there that New Yorkers actually want to go. A handful of establishments that are not yet global luxury flagships, even if they are standard bearers for the upper classes.
"Ultimately, Peter Brant and I worked out a 10-year deal that is good for everyone involved, we can put the rumors of closing to rest, and focus on the future and keep making Lure better," Mr. McDonald told Eater. "It went down to the wire but timing wise it was key given we are opening Lure Miami in November."
As ever, Mr. McDonald remained mum on what that deal actually entailed rent-wise. In June, he told The Observer that he realized he might be priced out—upstairs, Prada renewed its lease upstairs for a (neighborhood) record-setting $1,000 per square foot—but that he just wanted a chance to pay "fair market rent based on comps and data."
What fair market might be, of course, is a hard thing to determine in market that is constantly being nudged upwards—especially when the news highs are being set by one's own landlord. As indicated by the length of the negotiations, McDonald and Mr. Brant seem to have had a hell of a time hashing it out, but at least they succeeded.