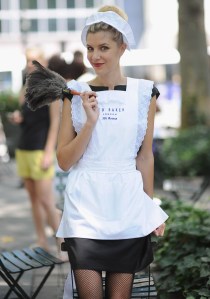 Does the idea of a sexy female maid fail to cut it? How about paying a man to scrub your filthy abode?
Chuck Bennet, 31, is turning the maid stereotype onto its head with his cleaning service: "Maid Men."
The one-man company is based in Greenpoint in Brooklyn and provides deep cleaning for $25/hour. Its specialties include getting rid of hardened ramen on stovetops and pigeon poo on windows.
If your house has descended into a pigsty, fear not! "The dirtier the place is, the more I'm into it. People always apologize, but I'm always like, 'No, you don't understand. This is what I do,'" Mr. Bennet said.
Before setting up the business, he honed his trade at Midtown's Hotel Elysee. A friend of his came up with the company's name. It's as appropriate as it's catchy – scenes from "Mad Men" were filmed at the Elysee.
Mr. Bennet describes his work as "empowering." "I worked a desk job for a couple of years, and I couldn't stand it," he said. "I would look at a computer all day. It was just not my type of thing."
In his downtime, the aspiring rapper swaps his broom for a mic. He's not the first performer to specialize in cleaning out closets.