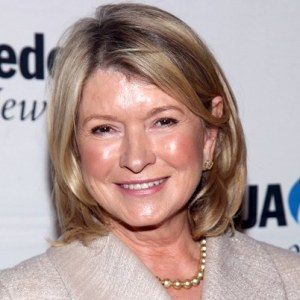 A bill that Gov. Chris Christie vetoed continues to draw national attention.
Martha Stewart, TV celebrity, talk show hostess, business magnate and expert on upscale dining and living, has written an open letter to the Legislature imploring it to champion a bill that would ban confinement of gestating pigs.
Stewart, who says she is a New Jersey native, implored the lawmakers to take action.
"These animals have committed no crime, yet they're treated worse than even the most violent criminals would be treated. No prisoner in our state – or country, for that matter – is kept in a cage so small he can't turn around for months on end," she said.
"This is torture, and we shouldn't permit it to be inflicted on anyone, especially animals who have done nothing to deserve such callous punishment."
Earlier this year, Sen. Ray Lesniak said Christie's veto was motivated by Christie's national political ambitions. Lesniak said the original bill drew bipartisan support, and dealt with a matter of cruelty to animals that is drawing increasing advocacy, yet Christie turned the bill aside because Iowa – site of the first GOP presidential caucus – is home to the National Pork Board.
The bill, S1921/A3250, would have prevented gestating pigs from being confined in a box that practically immobilizes them.
The practice is not believed to be under way in New Jersey, but the bill would have barred the door to businesses possibly seeking to relocate from states that already have banned it.
In his veto statement, Christie said he was balancing the humane treatment of pigs with the interests of farmers trying to protect their livelihoods.
He said proper authority over the matter rests with the Department of Agriculture, which he said would take measures it deemed necessary.
Stewart is having none of that.
"Gov. Christie decided to veto the bill after hearing from out-of-state (read: Iowa) pork interests," Stewart writes.
"I urge you to reaffirm your support for this common sense legislation and vote to override Gov. Christie's regrettable veto," Stewart writes to the lawmakers.
She points out, as Lesniak and advocates did earlier this year, that the bill has drawn support of 91 percent of state voters, large companies such as Costco and McDonald's have sworn off using gestation crates in their supply chains, and nine states as well as the European Union have banned the practice.
The letter is on Martha Stewart Living Omnimedia letterhead and is addressed to the Office of Legislative Services Office of Public Information.
Lesniak, a prime backer of the confinement ban bill, said he was pleased to hear of Stewart's support. "Her support for it certainly lends a lot of credence to the issue of unnecessary cruelty to animals," he said.
"It was always a national issue to me," he said, reiterating his belief that the only reason for a veto was to cater to Iowa interests. Christie is rumored to be a presidential contender in 2016.
Kathleen Schatzmann, N.J. state director of the Humane Society of the United States, said that "Martha is a proud advocate and stepped up when she heard about the importance of New Jersey's effort to ban gestation crates for pigs."
Previous story:
Lesniak: Christie veto of pig confinement bill was nod toward Iowa