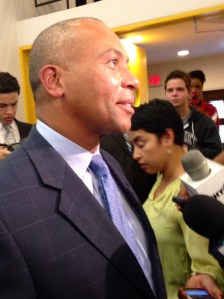 PRINCETON – Massachusetts Gov. Deval Patrick is the latest high-profile elected official to weigh in on the New Jersey special U.S. Senate race.
The Democratic governor met with college students Tuesday as part of a four-stop stump tour on Booker's behalf. The governor hailed Newark Mayor Cory Booker as someone who will go down to Washington as "a statesperson first and a partisan second."
Patrick shared his story with Princeton University's college Democrats of growing up in poverty on the South side of Chicago and being able to, in one generation, give his children a much different life.
"That's the American story," he declared, before quickly moving on to why Booker is the best person to bring the policy fight on behalf of everyday New Jerseyans to Washington.
"When I come to policy questions, I don't come to them because I'm just interested in abstract policy," Patrick said. "To me, policy matters where it touches people, and that's why I care about Cory Booker."
Patrick spoke with students for about 45 minutes before taking questions from reporters, where he brushed off any criticism that Booker's absence from the events is anything unusual.
"It would be in my experience, which, admittedly is limited, unusual if he were here today," Patrick said.
"The way we've used surrogates at home is to leverage the campaign, not to duplicate what the candidate is doing, and that's what I've done when I've done stumping in other states for other candidates," he said. "I'm delighted to be here on his behalf and I'll get to see him in a little while."
The governor is slated to have a private meeting with Booker in Newark later today, he said.
Patrick is now scheduled to appear at an event for both Booker and Democratic gubernatorial nominee Sen. Barbara Buono in New Brunswick.