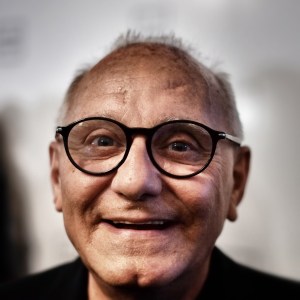 Backstage at the Hervé Léger show Saturday afternoon, we caught up with designer Max Azria at Lincoln Center to ask what new looks audiences could expect to see this season. His response was…well, surprising:

"A woman who is not only black," he said, touching our bare arm to show what he meant, "But black fabric, off-white, beige, some light blue fabric. Some revolutionary fabric that we're using from lasers, some pieces."
Was he just describing the color palette for the new season, which did include a mix of black, blush and blue? We were going to chalk up to a language barrier, but for the fact that Mr. Azria– while using black models for the line in the past– has received blowback for never booking more than three during any major runway show.
His Spring 2014 show on Saturday included exactly three women of color.
Mr. Azria's statement dovetailed with Thursday's open letter to the fashion industry from The Diversity Coalition, led by former model Bethann Hardison, which fingered the designer's other line BCBG (among others,) for being racist in their consistent casting of "one or no models of color."
If Mr. Azria is changing his look on the runway, he's just in time: The biggest bold-faced name at the show that afternoon was Nicki Minaj.