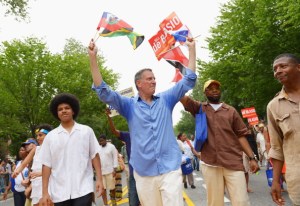 Well, that's one way to insert yourself into the mayoral race.
Mayor Michael Bloomberg, who has long tried to avoid commenting on his possible successors, reportedly slammed Public Advocate Bill de Blasio's campaign as "class-warfare and racist," according to a New York magazine interview that was released this morning.
Asked to elaborate on the "racist" claim, Mr. Bloomberg accused Mr. de Blasio of highlighting his multiracial family simply to secure black votes.
"I mean he's making an appeal using his family to gain support," Mr. Bloomberg explained. "I think it's pretty obvious to anyone watching what he's been doing. I do not think he himself is racist. It's comparable to me pointing out I'm Jewish in attracting the Jewish vote."
Reached for a response, Mr. de Blasio said he hadn't read the piece but "if that's exactly what he said, it's obviously inappropriate and I'm surprised to hear him say it."
"I'm very proud of my family. I'm very proud of each and every member of my family and the way that they have handled themselves in a very difficult campaign," he added, addressing reporters after a Harlem campaign stop this morning.
The billionaire mayor also had harsh words for Mr. de Blasio's call to raise taxes on the wealthy and deriding a "Tale of Two Cities"–one New York City for the rich and another for everyone else.
"[H]is whole campaign is that there are two different cities here," said Mr. Bloomberg. "And I've never liked that kind of division … The people that would get very badly hurt here if you drive out the very wealthy are the people he professes to try to help. Tearing people apart with this 'two cities' thing doesn't make any sense to me. It's a destructive strategy for those you want to help the most. He's a very populist, very left-wing guy, but this city is not two groups, and if to some extent it is, it's one group paying for services for the other."
Mr. Bloomberg didn't go so far as endorsing Mr. de Blasio's rivals, but he offered praise for Democrat Christine Quinn and Republican Joe Lhota, saying The New York Times was "right" to endorse them.
The de Blasio campaign indicated the candidate will offer a direct response to Mr. Bloomberg's New York interview later today.
Additional reporting by Jill Colvin.