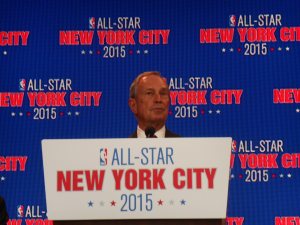 Mayor Michael Bloomberg isn't known for his ravenous sports fandom, but the term-limited billionaire really hopes to score a ticket to the NBA All-Star Game festivities in 2015.
"My first concern is to make sure that I can go," Mr. Bloomberg told reporters this afternoon at a press conference announcing that the Brooklyn Nets and New York Knicks will co-host the NBA All-Star Game in 2015.
While it seems unlikely the term-limited mayor will have trouble scoring a ticket to the game, Mr. Bloomberg–who isn't quite of the athletic height–jokingly lamented that he'd never been asked to play for any of the city's pro sports teams.
"Let me point out that in the 12 years [I've been mayor], not one of the major league teams in our city, in any sport, asked me to play in a real game," the famously diminutive mayor declared. "I've thrown out a baseball, that is true, but that was before the beginning of the first inning."
But NBA Commissioner David Stern had an offer: "I would like to invite you to toss-up the ceremonial jump ball at both venues prior to your stepping down," he said.
"How high would I have to get it up?" Mr. Bloomberg asked.
"Very low," Mr. Stern told the mayor.