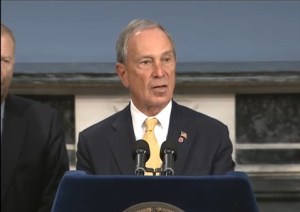 In the aftermath of Monday's mass shooting at the Navy Yard in Washington D.C., Mayor Michael Bloomberg is making yet another push for tougher gun purchase background checks.
"We don't have all the facts about the shooter," Mr. Bloomberg said at press conference today at City Hall, "but what we do know [is] what happened this week has happened before–and sadly it looks like it will happen again until we get serious about this issue of just too many guns around."
At today's press conference, Mr. Bloomberg, one of the nation's fiercest gun control advocates, announced the results of a new investigation looking into arms exchange websites.
The investigation, conducted months ago, focused on ArmsList.com, a website that facilitates private gun sales. Mayors Against Illegal Guns, Mr. Bloomberg's gun-control advocacy group, conducted background checks on buyers who openly posted their personal information on the site and found that many had criminal records that would bar them from making legal purchases.
"Not only are criminals buying guns online, they're doing so brazenly by openly advertising that they want to buy them," Mr. Bloomberg declared. "This investigation has just scratched the surface of the Internet's vast illegal gun market–and if nothing is done, that market will continue to grow."
"The widespread disregard for the law that our investigation revealed demonstrates the need to take three immediate and critical steps," he added.
Implementing those three steps may face an uphill battle, however. In addition to calling for websites like ArmsList to voluntarily regulate their buyers and sellers and asking the Bureau of Alcohol, Tobacco, Firearms and Explosives to create an online "training video" to teach federal laws, the mayor pleaded with Congress yet again to pass legislation expanding gun background checks to cover private sales.
Of course, Mr. Bloomberg's last push on the matter was shot down in the U.S. Senate earlier this year and never brought forward in the House.
Pressed on how he could be hopeful that Congress would be any more amenable to background check legislation going forward, Mr. Bloomberg remained resolute.
"Most of the Democrats and some of the Republicans are willing to do it," he told Politicker. "They're not that far away. And I think the House if they brought up a bill, if it got to the floor it would pass with a very big majority from both parties. "
"Let's assume it is," he reflected on the hypothetical impossibility of federal action on the issue. "What are we supposed to do? Walk Away?"